Probably the tittle of biggest capacity motorcycle produced by a British manufacturer can be shared between the Matchless and N.L.G. models built in the 1906-9 period. Both used almost identical J.A.P. engines and both were intended solely for racing and record attempts.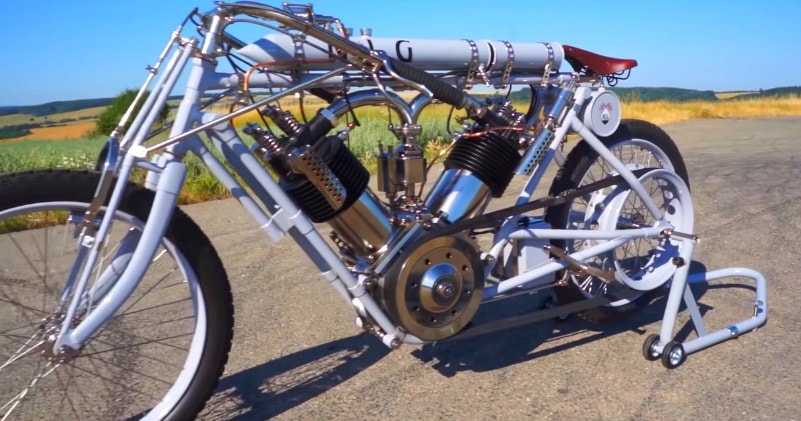 source/image(PrtSc): Pavel Malaník
The power unit was a J.A.P. Vee-twin o.h.v. and differed from other Prestwich engines in having a 80° angle between the cylinders. Bore and stroke were identical – a colossal 120 mm X 120mm. The cylinder heads were non-detachable but had the valve-guides and inlet exhaust manifold bolted to him. Due to huge volume of cylinders had to be used twin exhaust pipes.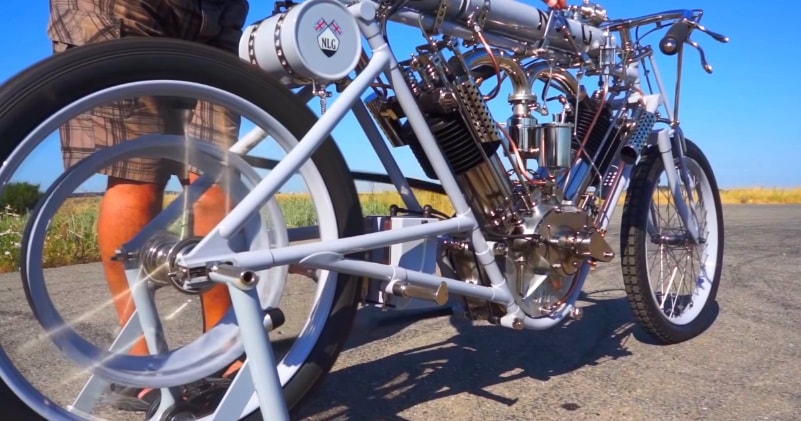 source/image(PrtSc): Pavel Malaník
Extra ports were cut in the cylinders of N.L.G. model to aid exhaust gases to escape – a favorite method of tuning with crack N.L.G. rider W.E.Cook.On original photo is seen Charlie Collier, driver of matchless. Thanks to simple frame had motorcycle bad manageability and was soon cancelled as unpractical.
Advertisement
N.L.G. who built their machine two or three years later – had a far more satisfactory double frame. Three tubes were used to carry each end of the rear spindle so that the motors' power would not distort the frame. During world record attempt N.L.G. reached 90 miles per hour but record wasn't recognized due to electrical timing apparatus malfunction.
What happened to them? The Matchless disappeared without trace but I the N.G.L. may have sold to the Tessier brothers (who owned the Bat Concern) and run as Bat in 1910-11. It would be fair to mention preparation of N.L.G. for Tourist Trophy 1908 race with driver Harry Bashall. Extremely powerful motorcycle with bad manageability was called Monster and proved to be inappropriate for this race.