A Los Angeles-based inventor Rodger Parker has created tge NuBikemfg Chainless Bicycle, which he claims is more efficient than a chain-drive bike. NuBike has an internal carbon-fiber "I-Beam" molded inside the shape as a secondary structure with the frame still weighing less than 3 pounds.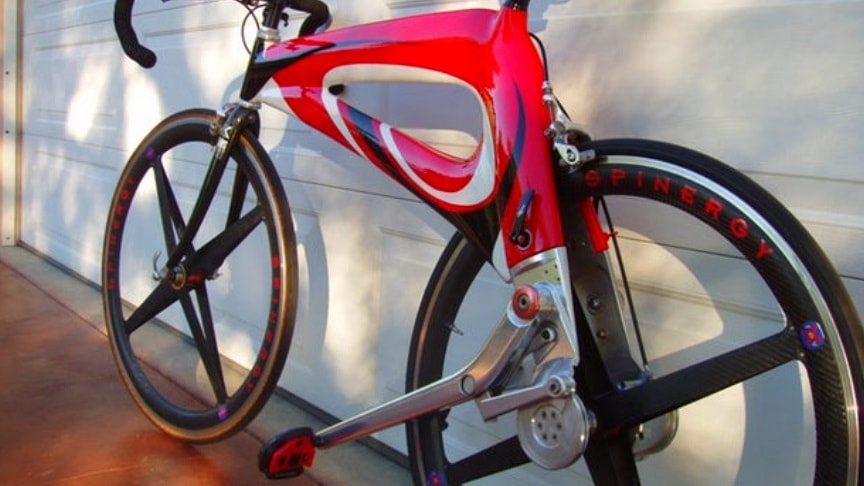 source/image: Rodger Parker
A new computer optimized frame will weigh even less and it will accommodate most off-the-shelf components; wheels, saddles, handlebars, etc. The prototype weighs 10 kg, By replacing the current 7075 aluminum levers with ones made of magnesium, along with making some other changes, it is hoped that the final commercial model will tip the scales at 8 kg.
What really stands out on the NuBike are the levers that run from the pedals to a linkage on the rear hub.These allow riders to simply push up and down on the pedals, causing the rear wheel to turn. By eliminating the chain, it's capable of going faster with less effort using the mechanical advantages of leverage and gravity. Longer pedal cranks deliver more power to the rear wheel.
Advertisement
Gravity and near vertical pedaling, combined with the rider's weight, produces continuous force throughout the entire pedal stroke… not just for part of it. There's less stress to the hips, knees and ankles and it's easy to store securely. Simply put, NuBike is more efficient and the concept will practically work on all bikes: Beach Cruisers, Mountain Bikes, Kids Bikes and even Rickshaws!