This Fairey Gannet XT752 is named Janet. She's a nuclear capable weapons platform,submarine destroyer built in 1954 as the worlds first dual-control prototype T2 Fairey Gannet.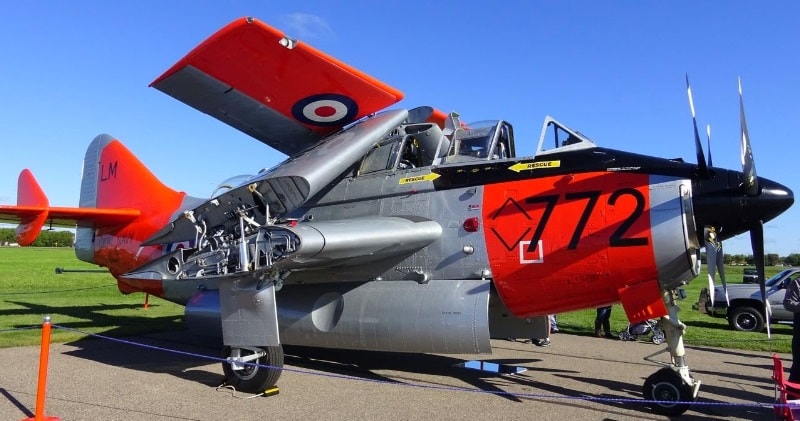 source/image: KDawgFilmz
The Gannet type are the only aircraft in the world to bi-fold its wings in such a way. She is the oldest Turboprop aircraft flying in the world today. Prepare to be amazed!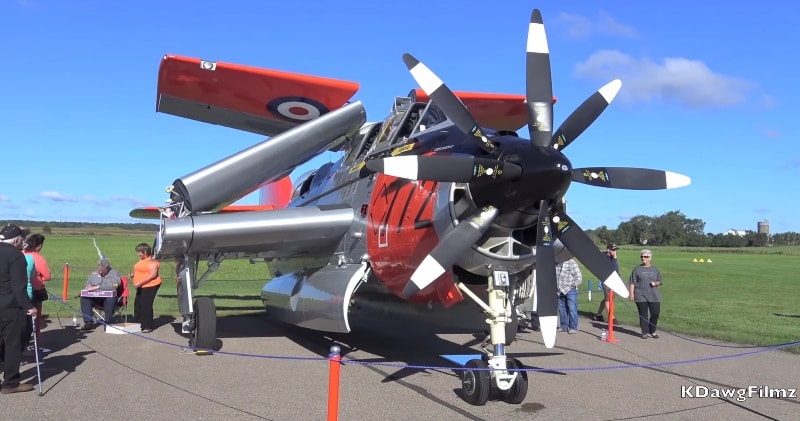 source/image: KDawgFilmz
The ASMD.1 engine 2,950 hp was used in the Gannet AS.1; ASMD.3 3,145 hp in the AS.4; and ASMD.4 3,875 hp in the AEW.3 variant. The Double Mamba engine could be run with one Mamba stopped to conserve fuel and extend endurance for cruise flight.
Advertisement
The contra-rotating propellers meant that when only half of the Double Mamba was running there were no thrust asymmetry problems.
The Mamba exhausts were situated on each side of the fuselage, at the root of the wing trailing edge. The gas-turbine engine could run on kerosene, "wide-cut" turbine fuel or diesel fuel, allowing the Admiralty to eliminate the dangerous high-octane petroleum spirit required to operate piston-engined aircraft from carriers.