The Swarm man carrying multi-rotor airborne flight testing montage. 54 counter-rotation propellers, six grouped control channels with KK2.15 stabilization. Take off weight 148kg, max lift, approx. 164kg. Endurance10 minutes. Power approx. 22KW.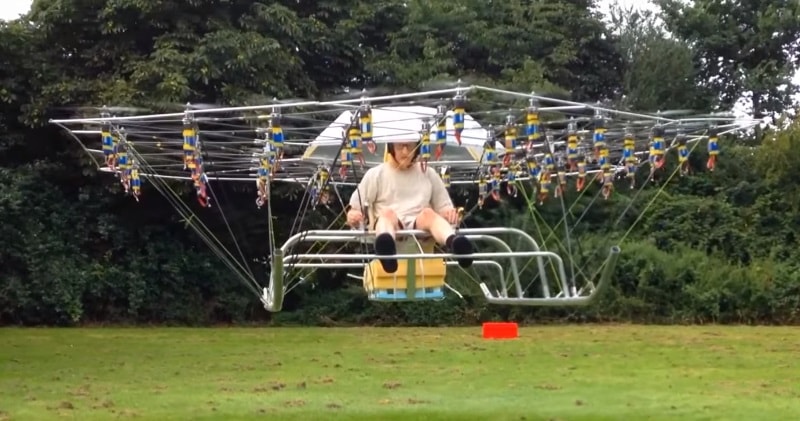 source/image(PrtSc): gasturbine101
Just a bit of fun for my self, never intended for making a significant journey or flying much above head height. Approx cost £6000.Props at 18 in were the largest I could find with contra rotating pitches and so defines much of the layout.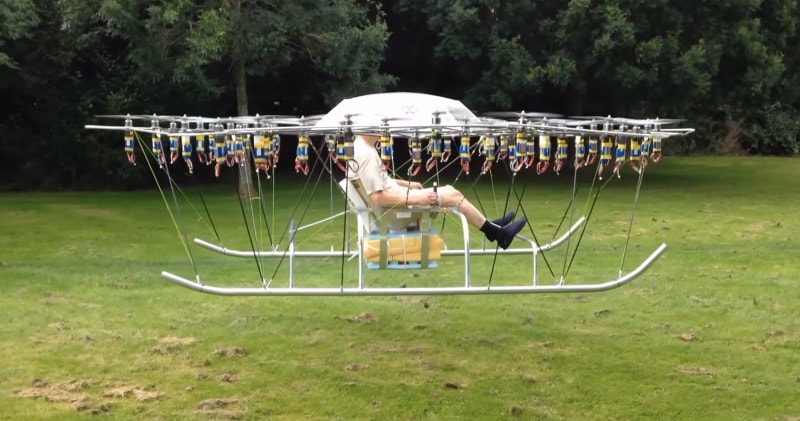 source/image: gasturbine101
Also the fine pitch allows them to turn at high speed which reduces motor weight for a given power. Motor KV chosen to work with 4 cell batteries with 20% or so control margin. This low margin maximises the ESC efficiency, higher margin results in higher circulating current losses in the ESC and motor, reducing endurance.
Advertisement
The 54 gives good redundancy as mechanical and power electronic systems are the main failure areas. I have had one ESC randomly fail already. Controls could be made fully redundant (9 x KK2.15s) so only the control sticks (and pilot) are single failure points. Redundancy increases the likely hood of failure but reduces the consequences.
Props are standard RC aircraft types used at a relatively low fraction of their thrust/rpm capability. So should be reliable though needlessly heavy.Batteries, ESC and motor are close together to minimise wiring weight which is significant because of the high current 30A. Also the battery damps vibration. Individual batteries does mean some may run down a little quicker than others.