Vanqraft VQ16. It's a crossover between a superyacht tender and a jetski. As a superyacht tender, VQ16 offers spacious cabin at five-meter-long body yet as a jetski.Designed by Guido de Groot Design, the 'fun machine' has already received enthusiastic feedback.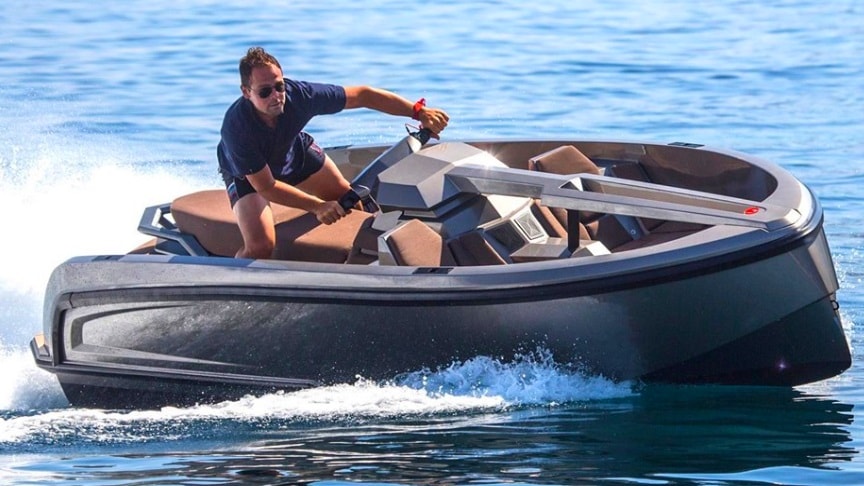 source/image: Vanquish Yachts
And no wonder, as the VQ16 offers the best of both worlds: it can bring five passengers over long distances in relative comfort, can be used to transport people from their yacht to a beach club (as it is easily stored in a tender garage), and can comfortably drop people off at a beach thanks to its jet propulsion and draft of only 0.20 m/0.66 ft.
As a tender, the VQ16 is practically unparalleled thanks to its top speed of 40 knots, or even 50 knots in the Veloce model. Since all these ingredients guarantee an exceptional level of fun, we have nicknamed the VQ16 the 'fun machine'. Watch the video to see why.
Advertisement
The spacious, five-metre-long beauty is driven by a 200 hp yamaha 1.8 l engine with jet propulsion and can easily achieve 40 knots.The Vanqraft is clearly recognisable as the smaller sister of other Vanquish yachts, featuring similar lines, superior manoeuvrability, sensational acceleration and Dutch quality construction.