Whether you're coming, going or somewhere in between, the Tiffin Midas makes your journey a comfortable adventure. For those who want exploration without sacrifice, convenience without constrains—the Midas is a little bit of everything. It's Tiffin's most nimble Class C coach; built for you to go and do, but designed for you to stay and be.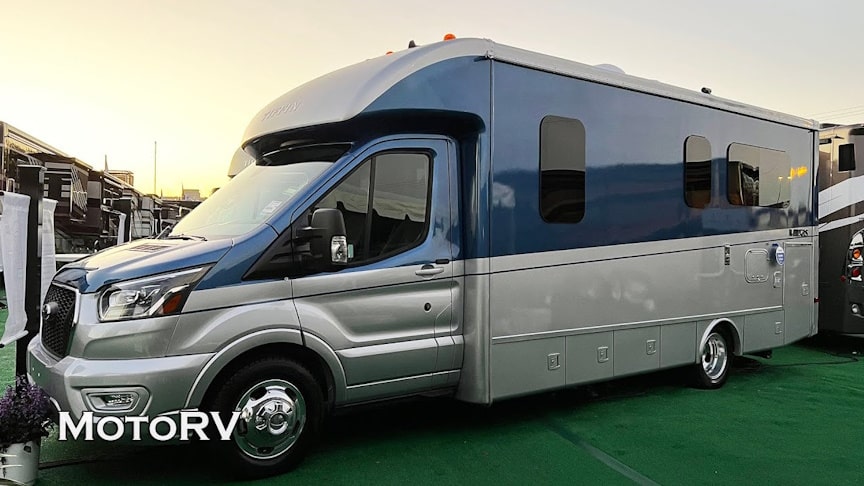 source.image: MotoRV
The exterior has a Girard® powered patio awning with LED lights that you can use while you're outside lounging. The exterior has also been outfitted with rear mud guards and flush-style tinted windows with tip-out feature, and the outside shower is going to be useful when it's a scorching afternoon in July and you want to cool down.
This Midas Class C gas motorhome has a private bedroom in the back with two 32″ x 76″ twin beds which can convert to an 86″ x 76″ king bed for ultimate flexibility. The bedroom is also outfitted with a wardrobe, nightstand, and flat-panel TV.The motorhome stands on Ford® 350 HD AWD Transit Cutaway Chassis powered by 3.5-Liter EcoBoost® 310 HP Engine with 400 lb-ft Torque.
Advertisement
You will even find more storage under the beds! The kitchen allows you to prepare that pasta dish you love, and the pantry can store your snacks. Prep meals on the solid-surface countertops and enjoy the high-class look of the handcrafted cabinetry. There is a second TV located just above the front cab seats.