Step inside Boundary House and enter a maze of hallways, rooms, 16 skylights and open-air patios designed to blur the boundary between inside and outside. Sitting on a sliver of land between farms and Tokyo sprawl, the designers first envisioned creating a home under a tarp-like structure where one can fully feel nature and move freely between inside and outside.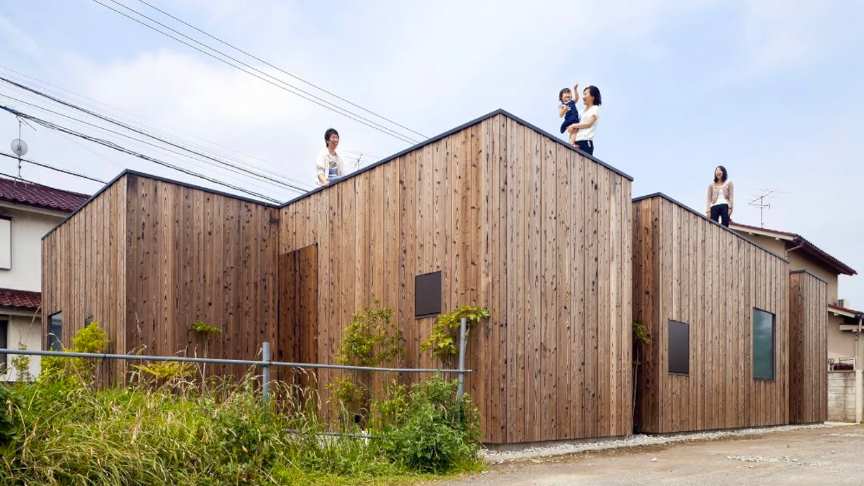 source/image(PrtSc): Kirsten Dirksen
From the architects (Atelier Tekuto): "To integrate architecture and nature, we work with the concept of "blurring the boundary" by adopting the following design ideas. Firstly the plan becomes a maze-like composition where interior and exterior spaces are interwoven. Then 16 top lights, some are glazed for interior use and others without glazing for exterior use are provided.
The potted plants, which are located both inside and outside, symbolizes co-existence of architecture and nature.Materials and finishes are also treated the same in interior and exterior. Exterior walls are finished with charred ceder wood (called Yaki Sugi), that are traditional Japanese technique of wood treatment.
Advertisement
And interior sides are finished with persimmon tanning containing Bengara (called 'Kaki-Shibu') that is also a traditional wood finish. Both finishes has similar texture and color, so that interior and exterior walls become continuous. For floor finish, polished terrazzo are used both interior and exterior so that architecture is seamlessly connected with the ground."via: Kirsten Dirksen