This is the Skydance cabriolet motorhome, built in a Mercedes Atego and shown at the Camper Caravan Show in Nadarzyn near Warsaw in October 2018.The double-decker design features a bed on the upper level for sleeping under the stars with the roof open.This concept has already been introduced in the 7.5 tonne prototype on a Mercedesa Atego chassis which we call the Skydancer.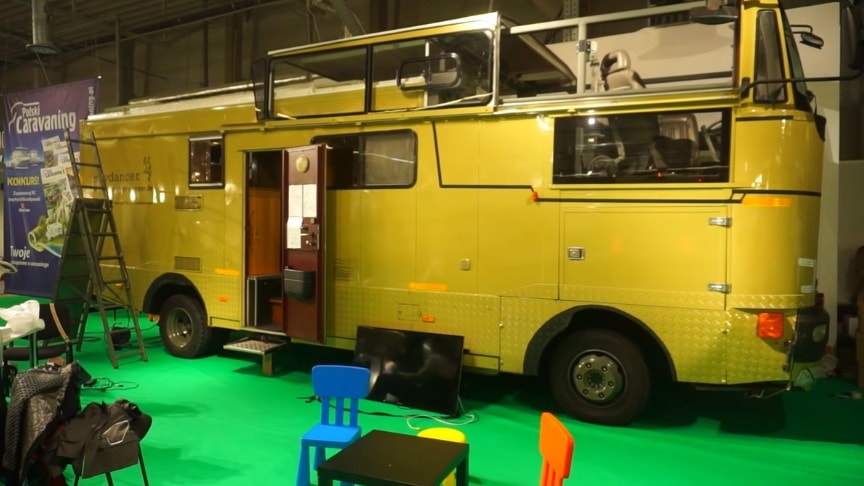 source/image: Alan Heath
According to the press release, it's about 23 feet long, about 10 feet high, and weighs about 6,790 pounds when "ready to ride."Under the hood is a 2.2-liter Multijet engine that makes about 150 horsepower. Appropriately, however, Skydancer claims the vehicle has been designed in a way that it could be fitted with a fully electric powertrain in the future.
Our aim is to supply alternative conceptions for motorhomes. If you are looking for something which is well equipped but well out of the ordinary then you have come to the right place. Our main innovation is what we call the reverse cab-over. It is really a cab-under!!! This means that instead of having a sleeping position over the cab, it is in fact under the driving position!
Advertisement
The rest of the vehicle has all the expected amenities of a traditional RV.The RV has a kitchenette with 145-litre refrigerator, a two-burner stove, sink, and prep area covered with a toilet, fold-down sink, and shower. The bathroom has a toilet and shower.