The Volkner Mobil Performance S was featured on Enes Yilmazer's YouTube channel, who gives us a detailed tour of both the exterior and the interior of the motorhome. The Volkner Mobil Performance S is, without a doubt, the world's most luxurious motorhomeThe most striking feature is the fact that under the cabin you can fit a normal-sized vehicle.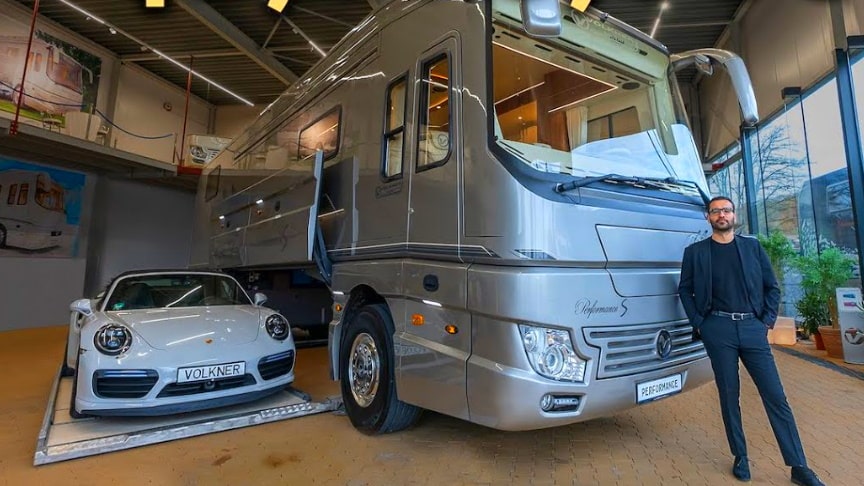 source/image(PrtSc): Enes Yilmazer
The 40-foot masterpiece is a 5-star hotel that you can park anywhere.The cargo floor automatically drops to the ground level during loading and unloading. The garage is spacious enough to accommodate most low riding sports cars and two electric bikes.Watch the video from Enes Yilmazer's:
The Performance S motorhome is powered by a rear-mounted Volvo diesel engine producing 460 horsepower. the Performance S can hold 211 gallons of fresh water, 158 gallons of black water, and has a 79-gallon toilet tank. A 2,400-kW solar panel system, connected to a 1,800 Amp battery pack.
Advertisement
The interior is something else. It's covered in luxury finishes such as leather, wood, Alcantara, marble, and glass.The Performance S also comes with a full kitchen, an induction stove, a microwave oven, a standard oven, a dishwasher, and a refrigerator. The Volkner Mobil Performance S motorhome measures 12 meters in length.
Model: Volkner Mobil Performance S
Chassis: Volvo
Engine: 460 hp
Perm. Total weight: 18 tons
Length: 12.00 meters
Broad: 2.50 meters
Height: 3.85 meters
Price Starts At: €1,600,000 / $1,850,000