Tokyo-based SkyDrive, showed off a test flight of its SD-03 flying car model earlier this month in the Japanese city of Toyota.The single-seat car, powered by a battery and four pairs of propellers, was lifted to six feet above the ground and hovered in a netted test area for about five minutes. Most significantly, the car had a pilot on board.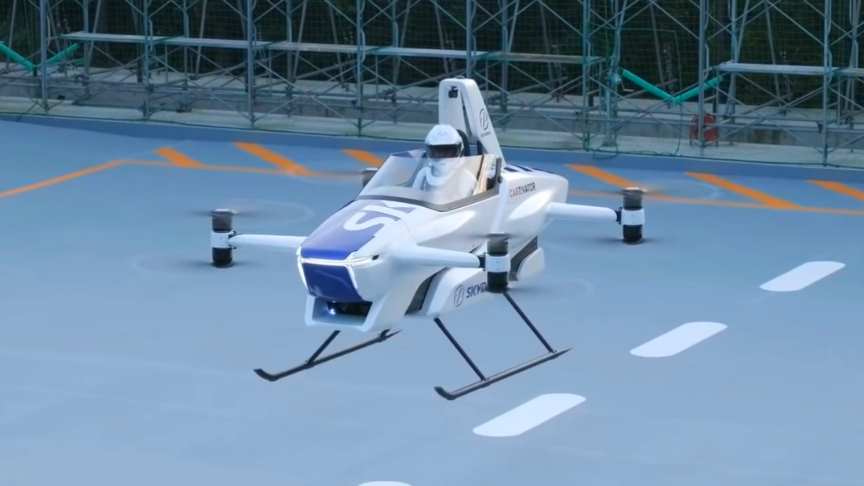 source/image(PrtSc): REC Anything
It was SkyDrive's first manned flight with the SD-03 model. The company, backed by Toyota (the automaker), aims to turn the prototype into a two-seater commercial model by 2023. It's the same timeline targeted by the Japanese government to roll out flying taxi service in dense cities like Tokyo and Osaka.
The aircraft has been designed to be the world's smallest electric Vertical Take-Off and Landing (eVTOL) model as a new means of transportation for the near future. It measures a compact two meters high by four meters wide and four meters long and requires only as much space on the ground as two parked cars.The aircraft has the capacity to carry a single passenger, and has an approximate cruise speed of 40-50 km/h (25-31 mph) with a maximum flight time of 5-10 minutes.
Advertisement
The powertrain consists of electric motors that drive rotors deployed in four locations, with each location housing two rotors that individually rotate in opposite directions, each driven by its own motor. The use of eight motors is a means of ensuring safety in emergency situations during flight and as such aims to address compliance standards and allay potential regulatory concerns./skydrive2020