The Overland-Ready Tacoma, created by 4WD Toyota Owner Magazine, is the ultimate outdoor lifestyle rig featuring a slew of off-road performance upgrades that align with the Tacoma's "go anywhere now" personality and the rising popularity of overlanding adventure.Overlanders leverage their vehicle as the key to their adventure to help push their journey forward. It is their basecamp and provides them the self-sufficiency and capability they need to get them to their destination and back.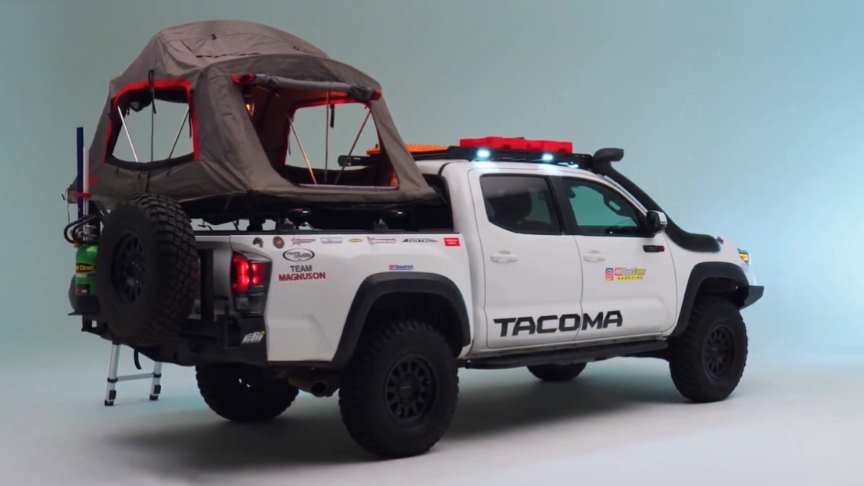 The editors started with a Tacoma TRD Pro, teaming up with Ryan O'Connell and ShmellFab to create this build. Off-road upgrades include: ToyTec BOSS Aluma 2.5 Series coilovers, shocks and add-a-leaf package; Toyota E-locker locking differential; CBI Offroad Fabrication lower control arms, front to rear aluminum and steel skid plates, and DOM steel tube rock sliders with top plates and CBI's 'kickout' design; Camburg Engineering upper control arms, and MaxTrax MKII traction boards.
On the power side, the team added a Magnuson Superchargers Roots-type TVS1900 blower, increasing output to 370 horsepower and 330 lbs-ft of torque.Other components include: BFGoodrich Mud-Terrain T/A KM3 255/85R16 tires mounted on 16×8-inch matte black 704 Trail Series from Method Race Wheels, CBI Offroad Fabrication T3 aluminum front bumper and T3 Swing Arm Series steel rear bumper with dual swingouts.
Advertisement
A ComeUp SEAL Gen2 9.5rs winch, aluminum CBI Offroad Fabrication Prinsu Cab Rack fitted with a 40-inch SR Pro LED series light bar and four LED Scene Lights from Rigid Industries, a 20-inch Rigid Industries SR Pro light bar in the front bumper, a Truck Covers USA locking cargo bed cover and rack system, and a Yakima SkyLine bed rack.//toyota