Inspired by how birds build their nests, Jack Becker and Andrew Linn wove the partition walls of their Grass House out of willows and built the structure from bamboo. As the first code-compliant bamboo home in the US, the tall and thin ADU feels different.When you enter the space, it smells of drying grasses, in stark contrast to the more typical new home odors of paint and drywall. "Basically every surface in this space is a natural organic material, largely cellulose based," explains Becker "So everyone comments that they like the way it smells when they come in."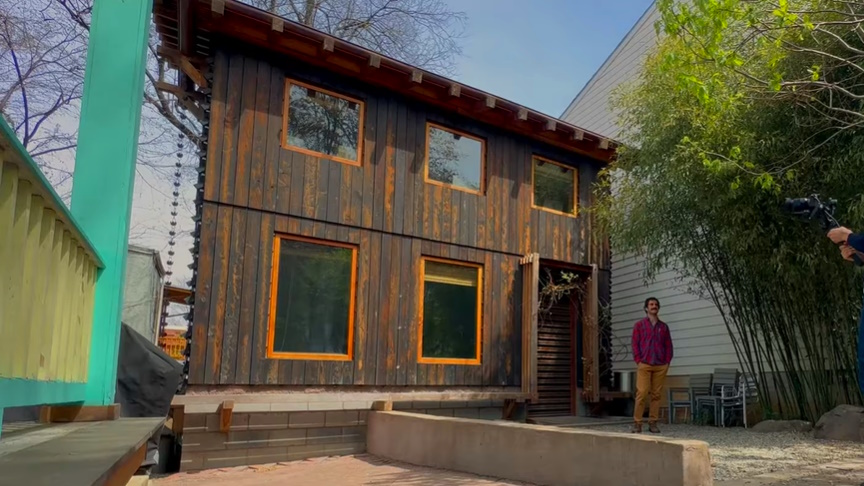 source.image(PrtSc): Kirsten Dirksen
Jack Becker was originally attracted to the wooden workers' homes built in the 1850s in DC's Anacostia neighborhood, but when he found a fixer upper across the street from Frederick Douglass' 1870s home he knew it was the spot to experiment with an all-natural home.
By tearing up the driveway, they created space for an Accessory Dwelling Unit built from a panelized bamboo system for its structural walls and floors and ceilings. The willow dividing wall spans the 3 floors of the narrow structure supported by just tiny threaded steel rods. Everything here is natural and salvaged, like shelving from the raw-edged off-cuts of the lumber used for the stairs.
Advertisement
The lamps are made from mycelium that has colonized agricultural waste and because the mycelium is chitin (what crabs and exoskeletons are made out of) it's "entirely non-combustible." Becker explains that they tested the material using the same torch used to char their cladding and it wouldn't ignite.