25 years ago, Jeffrey Frechette bought "the last $100,000 house in Seattle", a tiny 1940s era war bungalow that he describes as "a shack, literally built on cinder blocks and phone books." As a recent architecture school grad, he immediately began designing an addition, leaving the original structure in place for he and his wife to live in.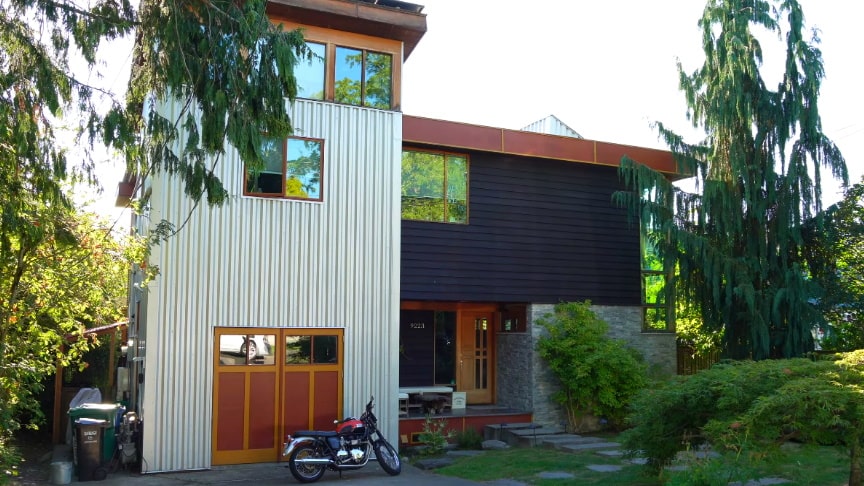 source/image(PrtSc): Kirsten Dirksen
After building more space for his growing family, he continued to build and was soon renting out an upstairs apartment.He didn't stop designing and building and soon he had a Scandinavian-inspired backyard home a wood-burning sauna for rent.Today, he can legally rent the two units, one as an ADU (accessory dwelling unit) and the other as an "extra room".
The entire compound is inspired by Japanese courtyard design with plants for natural privacy screening and planned views. Frechette feels fortunate that his passion has translated into passive income for the family, but he admits that "it's a lot of house I've managed to piece together over 25 years". He has a friend who jokes that he go to "Remodelers Anonymous".
Advertisement
"He's like, 'you just can't stop', but I mean I just love doing it. It is my favorite thing to do."Frechette does all of the work himself "the plumbing, electrical, hydronic heat system and a lot of furniture". Much of his work is inspired by the materials he finds at salvage yards./Kirsten Dirksen