U-Build is a modular construction system even completely inexperienced builders can assemble with simple hand tools. The flat-pack kit is made from CNC-cut plywood; components are slotted together like puzzle pieces using only a mallet and a drill.By following a simple set of instructions, one or two people can build a home, a backyard studio or ADU, or even furniture.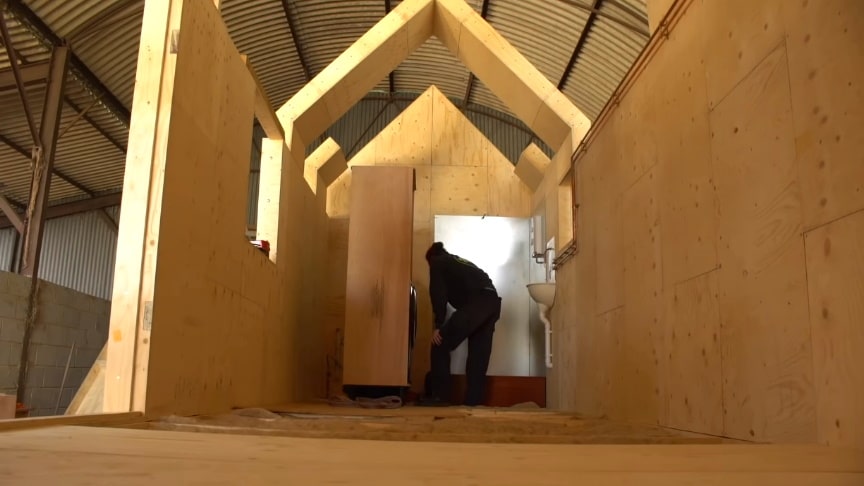 source/image(PrtSc): Kirsten Dirksen
To create a frame, pieces must be assembled to create hollow boxes that stack (and bolt together) to create walls and a roof. Natural-sheep-wool insulation is pre-cut to fit the boxes. On top of a weather-proof membrane, cladding completes the buildings; this can also be pre-fabbed in wood or cork panels.The idea to create a pre-fab building kit using boxes as the modules began with clients who wanted to self-build a modular house using shipping containers.
"But we said to them, 'although it sounds cool you can't really self-build using shipping containers because you'd need a crane license, you'd need a welding license, so while it seems modular, it's really just the illusion of modular.' We said, 'what you really want is if we could get the modules small enough that you could be building them yourself'. So with some of our contacts in the CNC world, we basically tried to find a way of making repeatable, strong structural boxes which could be like that human modular element."
Advertisement
The kits are designed for easy assembly and disassembly so the pieces can be reused for a new home, cabin, or piece of furniture. U-Build offers plans for tiny houses or cabins (10- 30m2/ 107- 323 sq ft) for £1000 (~$1380) per square meter. There's a full-size house (40-150 m2) at £900 per m2 and plenty of options for garden sheds under £12,000 ($16,600). The "Barn Owl" looks like it could serve as an ADU – the photo shows a bed, kitchenette, shower, and toilet setup; it requires building 57 boxes.//Kirsten Dirksen