We proudly present you the C SEED 201 2nd generation outdoor TV screen that wraps ultra-powerful technology into rigorously streamlined design aesthetics created by Porsche Design Studio. Simplicity of form, quality, durable high-grade materials and impeccable workmanship are combined in an austerely imposing installation.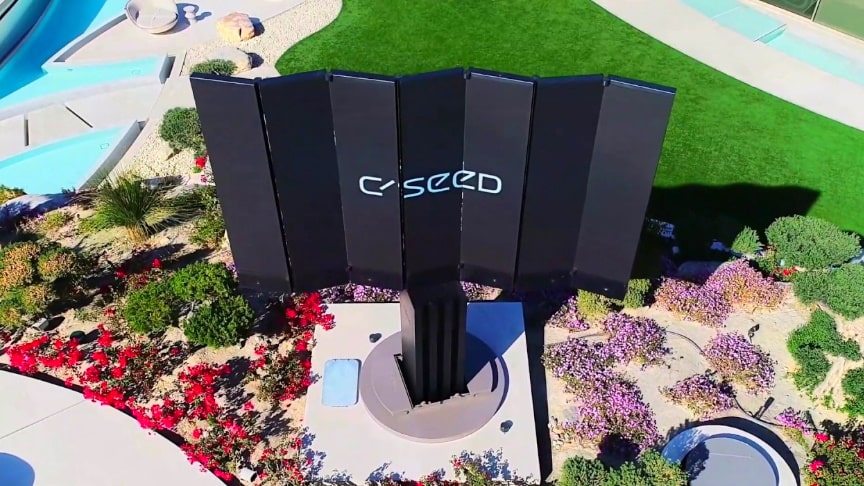 Together with the precise fine tuning and upgrades in the electronical and software stack – it is an ultimate tech moment that redefines the TV experience as we know it. Features include new TV frame structure improved by using aerospace aluminum components, an automated lift, 270-degree rotation, fully water-repellent surfaces, 3-way outdoor audio system and wireless connectivity to an indoor-installed media hub.
New C SEED media controller with full HDR processing and simple home automation integration such as Crestron & Control4.The C SEED 201 outdoor TV screen is hidden in its underground storage casing, waiting for activation by a simple push of a button on the remote control.
Advertisement
The C SEED 201 column takes 15 seconds to achieve its full height of 4.65 m (15 ft.) with effortless ease. Seven massive LED panels of the newest technological standard, unfold equally soundlessly within the next 25 seconds.
The panels interlock to form a seamless TV screen that bursts into action with revolutionary pixel power for ultra-high resolution images in any daylight environment and weather conditions, including direct sunshine. The 2nd generation now comes with a highest pixel pitch resolution available on the market and SMD black face technology for better contrast and 4K HDR processing./cseedTV