This 2B Meteor was built with Swiss precision with the aim of being sturdy and durable.She is an excellent runner.Universal motorcycles were made in Switzerland by the same factory that had previously marketed its products under the 'Helvetia' brand name. Established in 1928, Universal at first used proprietary engines supplied by JAP, Rudge (Python), Anzani and Ilo before getting around to making its own.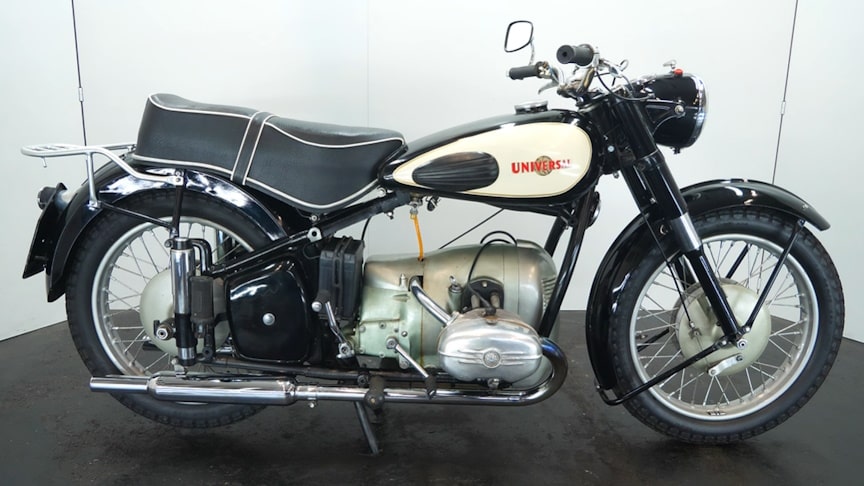 source.image: classic-motorcycle.com
At the top of the range in the 1930s were large sports models, powered by overhead-valve JAP v-twin engines, which looked every bit as handsome as their British counterparts. Universal began supplying motorcycles to the Swiss Army prior to WW2.
These being mainly large, sidevalve-engined v-twins used for both solo and sidecar work, and during the war developed a range of models primarily for military use, powered by narrow-angle v-twin engines of 676cc and 990cc. After WW2 they produced a flat twin of 578cc along with a shaft-driven 250cc single.
Advertisement
In the 1960s they had an agreement with Rabeneick to whom they supplied Universal 250cc shaft-drive engines. The company's most memorable 578cc post-war model was B40 with sidevalve, B50 and the later 2B Meteor both with overhead valve and all with shaft-driven transverse 'flat twin' inspired by the BMW. Universal motorcycles were last produced in 1964.
Model: 2B Meteor
Year: 1953
Displacement: 578cc
Engine type: 4-stroke / ohv
Cylinders: 2 – transverse twin
Power: 36hp / 5.800rpm
Bore/stroke: 72 x 71mm
Weight: 190kg