The Velove Armadillo is a four wheel cargo bike (or cargo quad if you wish) with electric assist. It handles great and has super smooth suspension! It is designed for use on bike paths, with a width just slightly over the width of regular bicycles (86 cm compared to 76 cm+swaying).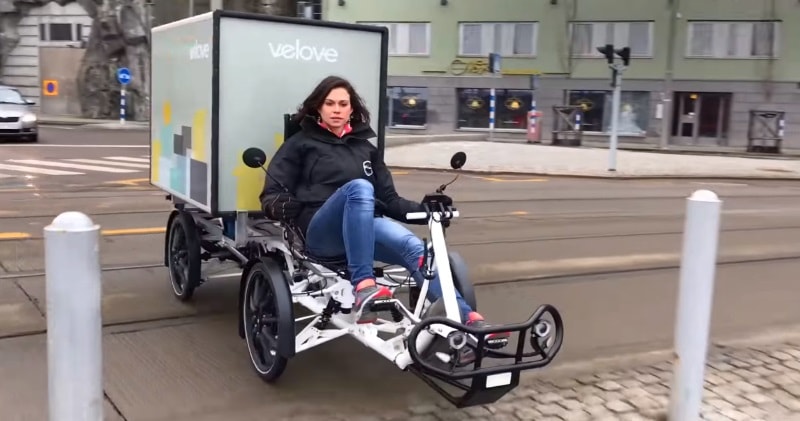 source velove: image(PrtSc): VeloveBikes
The Velove Armadillo is a high capacity cargo bike that is narrow, agile and fast enough to be used on bike lanes, with great ergonomics and that is a pleasure to ride.Velove is still testing cargo capacity, but it estimates that the bike can carry somewhere between 125 to 150 kg in its cargo box.
Individual double wishbone suspension allows the bike to travel safely and comfortably at 25 km/h on uneven surfaces, even with sensitive cargo or passengers. The suspension is adjustable, but as long as you stay within recommended loads you can use the same setting unloaded and fully loaded.
Advertisement
Convenient cargo height, easy access to all cargo without hurting your back.The rider sits at the same height as cars and has rear view mirrors, so traffic overview and visibility is comparable to cars.The small width (86 cm) makes it safe on double direction bike paths and is easier to overtake. The Armadillo is low enough not to obstruct traffic overview for other cyclists.