The Puch 250 TF was a motorcycle produced by the Austrian Steyr Daimler Puch AG . The 250 TF series motorcycle, equipped with a two-stroke twin-piston engine, was produced a total of 59,601 times between 1948 and 1954.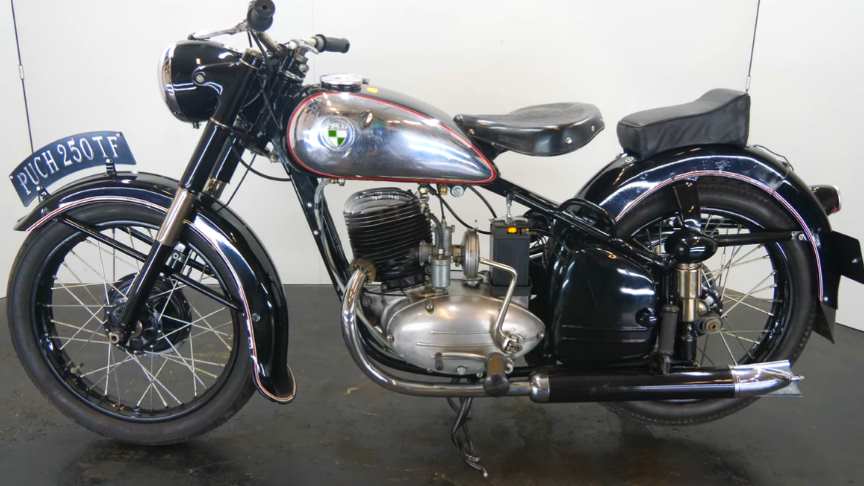 source/image(PrtSc): classic-motorcycle.com
The 250 TF was the first machine in a long line which began in 1949. Its main characteristic, its twin cylinder engine with a common cylinder head, theoretically avoids the mixing of fresh gas and burnt gas. The intake is in the rear cylinder and the exhaust in the front cylinder.
The paintwork was ivory-beige from 1948 to 1951 and black from 1952.From 1951 to 1954 there was also the similar yellow – later red – 250 TFS with two carburettors and around 15 hp. Only 400 pieces of this type were made.This Puch has been restored with care some years ago and runs fine.
Advertisement
The posterior bore includes the transfers and the anterior bore, the exhaust and intake ports. High thermal stresses, large moving masses and larger friction surfaces have caused this type of motor to be abandoned in favor of simpler systems, valves, rotary distributors, etc.
Manufacturer: Puch
Model: 250 TF
Year: 1952
Displacement: 248 cc
Cylinder: 2 – split single
Engine type: 2-stroke
Bore / Stroke: 45 x 78 mm
Power: 12hp @ 4.500 rpm
Weight: 138 kg
Top Speed: 100 km/h
Production years: 1948 – 1954
Units: 59.601