Check out the brand new Hennessey Venom F5! Join me for a first look at this incredible hypercar that targets a top speed in excess of 300mph.Powered by 'Fury', it has a 6.6l twin turbocharged V8 making 1,817hp and some extraordinary acceleration numbers. Let's explore in detail and even hear it with some flamethrowing revs.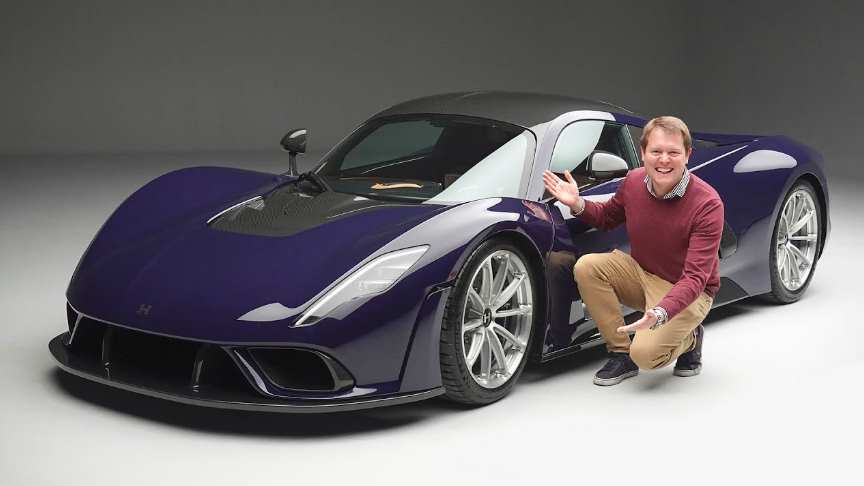 source/image(PrtSc): Shmee150
The Venom F5 gets its name from the Fujita tornado scale in Japan, 5 being the top level up to 318mph (511km/h), an appropriate name therefore for a car aiming for a top speed of over 500km/h (311mph). The car is bespoke for Hennessey and the engine's output of 1,817hp and 1,617Nm claims to carry it with estimated acceleration figures from 0-62mph (100km/h) in 2.6s, 0-124mph (200km/h) in 4.7s, 0-186mph (300km/h) in 8.4s and 0-248mph (400km/h) in a mere 15.5s.
Only 24 units of the Venom F5 will be built in total, the follow-up to the Venom GT that previously set a top speed of 270mph. The F5 also celebrates Henenssey's 30th anniversary in 2021 and with it launches a new brand identity and logo.
Advertisement
To keep things both strong and light, it has a carbon fibre monocoque as well as a full carbon body with streamlined aerodynamics but maintaining enough downforce for high speed and also track driving – furthered by the additional interchangeably rear wing as part of the Track package configuration.//Shmee150