Welcome to the VOLFERDA – a modern, sleek, and affordable tiny house that redefines small living! In this video, we take you on an exclusive tour inside this innovative tiny housE. With its cutting-edge design and smart features, the VOLFERDA offers a unique solution for those seeking minimalist and sustainable living without breaking the bank.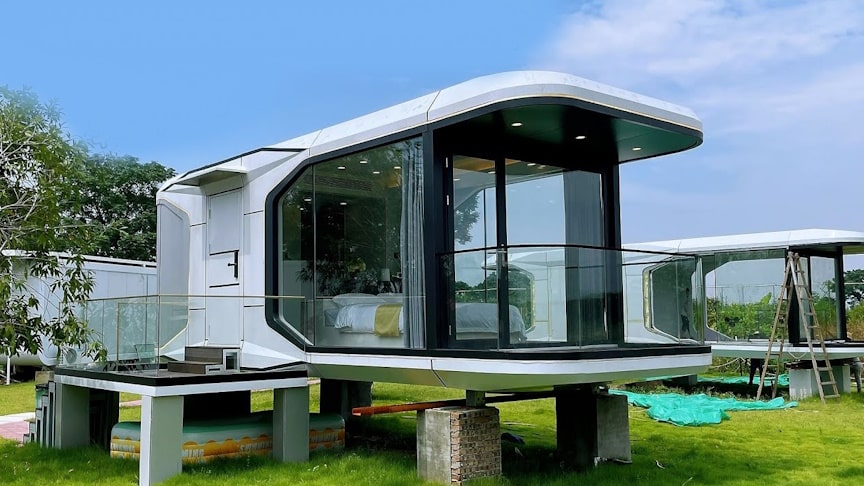 source.image: Volferda_capsulehouse
Step inside and discover the space-saving interior that maximizes every square inch. The open-concept layout includes a cozy living area with ample seating, a stylish bathroom with a space-saving shower, and a comfortable balcony for breathtaking views.
The main frame is made from galvanized steel frame structure, Housing (Aluminum Veneer ), Thermal insulation and waterproof layer, Glass curtain wall (8+15+8 hollow transparent tempered glass ), Skylight, Opening window, Stainless steel Entrance door, Intelligent door lock, Air conditioner/water heater/appliances Equipment room, Light Strip, Foot support,Hanging rings/transportation fixings/connectors, Three-step entry ladder.
Advertisement
Privacy exterior door of bathroom (one-way frosted tempered glass), Ceiling and wall aluminum cladding. Premium brand shower,Washbasin Sink,Bathroom mirror, Bathroom floor drain, Faucet, Toilet, Bathroom flooring Shower, Bathroom: Yuba, Downlight lighting.Clothes rack towel rack.Whole house water supply and drainage anti-explosion and anti-pressure piping.Storage type electric water heater, 2 sets GREE 1.5 hp inverter cooling and heating ducted air conditioner, Curtains,
2 double beds: floor bed frame + 200mm thick mattress.