Last week during Bernina Gran Turismo, an event born in 2014 with the aim of keep the memory of the legendary Bernina Pass hillclimb race of 1929 and 1930 alive, I recorded this beautiful Volvo P1800 restomod, which is Cyan Racing's interpretation of the iconic Volvo sports car from the 60s.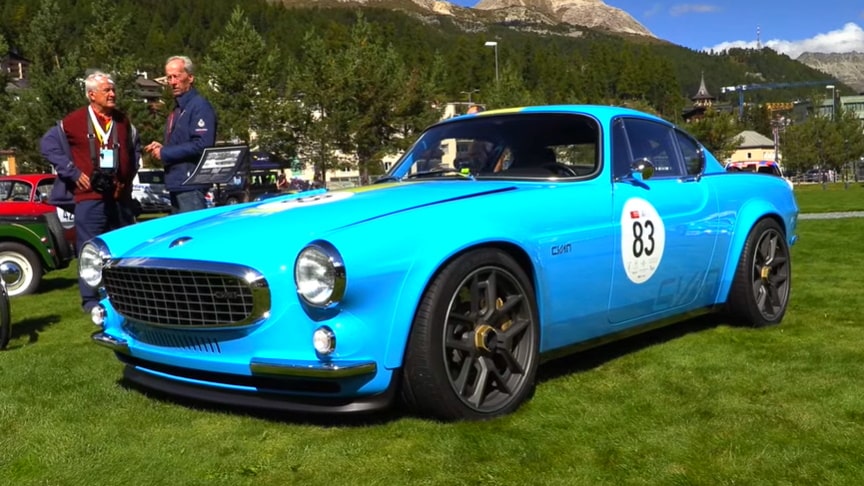 source/image(PrtSc): 19Bozzy92
Cyan Racing is the team behind the first WTCC title-winning Volvo race car (with the S60 TC1) and several other successful race cars. The Volvo P1800 Cyan started life as a 1964 Volvo P1800 that has been refined and reinforced utilising high-strength steel and carbon fibre. It also has been altered to accommodate a wider track, larger wheels and repositioned greenhouse, among a long list of redesigns. There are no driver aids on the P1800 Cyan, meaning no stability control, ABS or brake booster.
The two-litre turbocharged 4-cylinder engine is based on the same engine used in the Volvo S60 TC1 race car, producing 420 hp at 7,000 rpm and 455 Nm of torque at 6,000 rpm, with a redline at 7,700 rpm. A manual, dog-leg five-speed Holinger gearbox has been selected to carry the mechanical feeling of the original Volvo P1800, but with greater gear change precision and capability of handling the increased torque.
Advertisement
All the power is delivered to the ground on the rear wheels helped by a torque-biasing limited slip differential.Front and rear suspension are fully adjustable and features aluminium uprights, double wishbones and two-way dampers with Cyan hydraulics. The car is controlled by 4-piston calipers with 362x32mm steel discs./19Bozzy92