The basic vehicle is the Ford Transit Custom with long wheelbase. Its superior and economical engines, its automotive handling and its ergonomically optimised cockpit are just a few of the reasons that have made the Ford Transit Custom a real bestseller in its segment within just a few years of its market launch.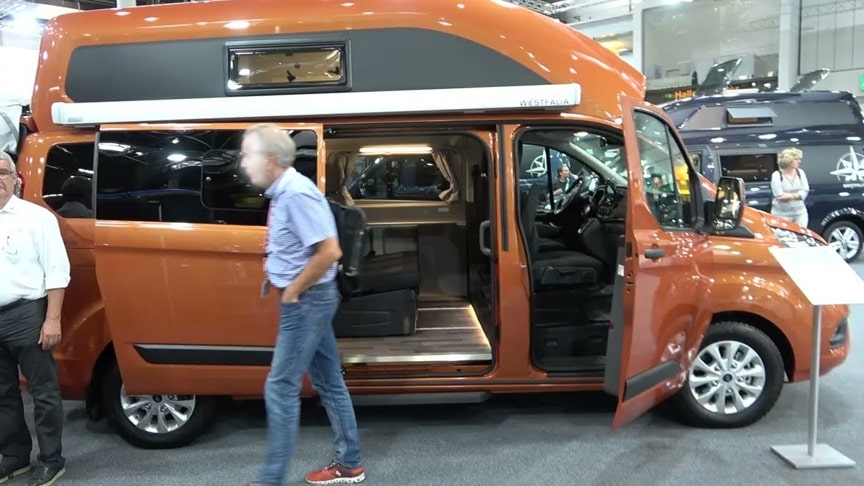 source.image: miniCampers
At the same time, the long wheelbase made it possible to integrate the requirements of you, our customers, into the new layout.Two separate double beds allow you to sleep up to four adults. Perfect if you're taking the camper for longer road trips with friends or family.
Other key features of the Ford Transit Custom Nugget camper include reversable front seats and a fold-out dining table; a fully functioning kitchen with sink, 40 L fridge, and gas stove; a 12 V power supply. Plus, onboard WiFi for up to 10 connected devices is enough to keep the whole family entertained.
Advertisement
A fully equopped kitchen at the rear of the camper van provides you with plenty of space for cooking and for storing cans, bottles, packets.The area includes a dual burner gas hob, sink and tap, and all the work space you need to prepare a meal.The Tilt Roof in the Ford Transit Custom Nugget camper means you'll have plenty of room when sleeping in the double bed. The hinged roof can be lowered to make the camper van compact and agile on the road, and raised to maximise space when parked.