Adelina has been living in her tiny house in Canada for 2 years and says it has only positively impacted her life. She downsized from a 1,200 square foot townhome into a 37′ long tiny house built by Teacup Tiny Homes on a gooseneck trailer. Her three main requirements for the house included having a bedroom she could stand up in, a permanent home office space, and a big kitchen so she could cook for her friends and family.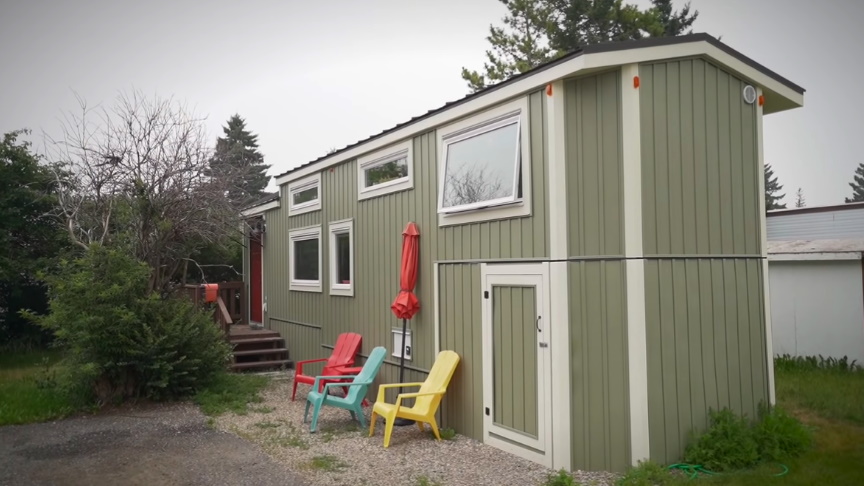 source/image(PrtSc): Exploring Alternatives
Adelina was able to find a legal place to park her tiny house at a mobile home park because she worked with a CSA-certified builder and had the trailer registered as a park model. Without planning and researching in advance to make sure these things were in place, she would not have been able to find a legal spot to park. The rules are different in each municipality so it's important to ask around before you start building/buying your tiny house!
Serendipity is 37′ long and 9.5′ wide and has a functional layout and beautiful interior design.The living room is at one end of the house next to the entrance and has a vaulted ceiling, an electric fireplace, and a coat closet.The kitchen is u-shaped with loads of counter and storage space. In the hallway, there's a permanent home office space and a massive pantry for food storage. The bathroom has a combo washer-dryer and an RV-sized bathtub.
Advertisement
And up a set of storage steps is the bedroom on the gooseneck of the trailer. It has big windows, a storage bed, and a big clothes closet. There's also a loft above the kitchen that could be converted into a guest room, and the space beneath the gooseneck is closed in to create a shed for things like a lawnmower and bicycles.via: Exploring Alternatives