The most space efficient spare tire goes by many names: Collapsible spare tires, expandable spare tires, space saver spare, Vredestein Space Master, Collapsable spare, and many more.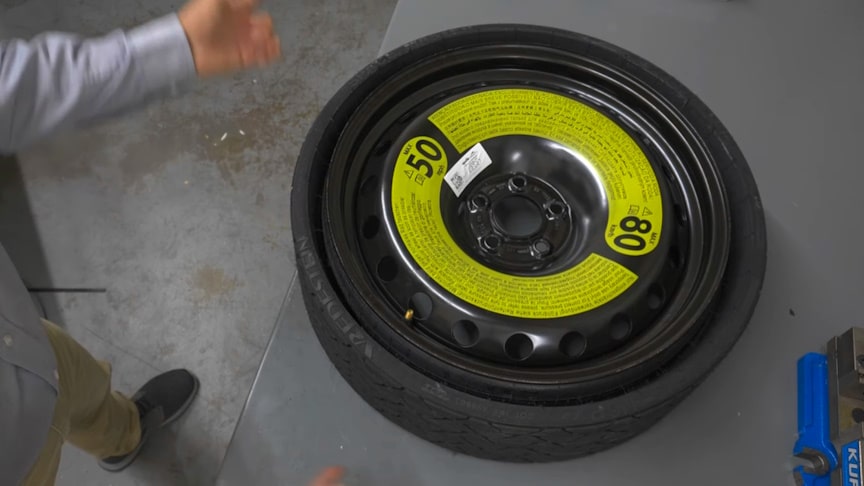 source.image: Auto Buyers Guide | Alex on Autos
It's been a favorite of the European car companies like Mercedes, Maserati, Porsche (and of course Rivian in the R1S) but it's really Volkswagen and Audi that have pushed the tech forward by dropping it into high volume models like the Audi Q5, Volkswagen Touareg, and of course the Audi Q8 e-Tron.
Yep, Audi makes the ONLY road-focused electric SUV with a spare tire. Outside the Q8 e-Tron you're looking at spares in off-road oriented SUVs like the Rivian R1S and Hummer SUV. (The R1S uses this same type however) With a footprint that's 40% smaller than the average spare tire and lighter as well, could the Space Master spare be the answer for EVs designed to road trip? I sure hope so.
Advertisement
A space saver wheel is the modern equivalent of a spare wheel, like the ones you would expect the AA or other similar breakdown assistance businesses to use when they need to get your car moved to a safer location. They are able to be installed into modern vehicles without sacrificing much of your bootspace, and are just as reliable as traditional spare wheels too.