This is the Mitsubishi i-MiEV, the most pathetic EV in existence. Today I'm reviewing this i-MiEV, and I'll show you all the many quirks and features. I'm also going to get behind the wheel of the i-MiEV and show you what it's like to drive.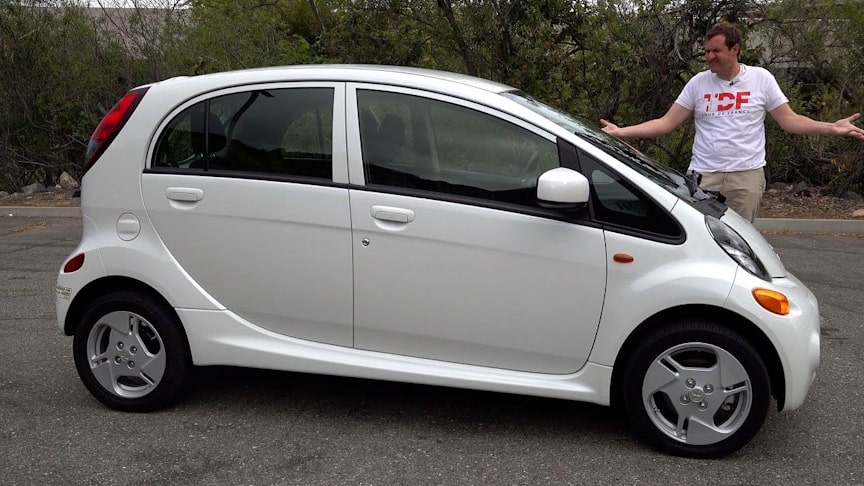 source.image: Doug DeMuro
The Mitsubishi i-MiEV MiEV is an acronym for Mitsubishi innovative Electric Vehicle is a five-door hatchback electric car produced in the 2010s by Mitsubishi Motors, and is the electric version of the Mitsubishi i.
The production version of the 2009 i-MiEV has a single permanent magnet synchronous motor mounted on the rear axle with a rated peak power output of 49 kW (66 hp) (between 2500 and 8000 RPM) and torque output of 180 N⋅m . The continuous power rating is 35 kW (47 hp).
Advertisement
The motor is water cooled, there is a conventional automobile radiator in the front of the car with an electric fan. The coolant (with antifreeze) level is monitored via a tank under the rear load platform on the left hand side of the vehicle. The 16-kilowatt-hour (58 MJ) lithium-ion battery pack consists of 88 cells placed under the base floor. The pack has 12 cell modules connected in series at a nominal voltage of 330 V.There are two 4-cell modules placed vertically at the center of the pack and ten 8-cell modules placed horizontally.