A flying replica Me 163 was constructed between 1994 and 1996 by Joseph Kurtz, a former Luftwaffe pilot who trained to fly Me 163s, but who never flew in combat. He subsequently sold the aircraft to EADS.The replica is an unpowered glider whose shape matches that of an Me 163, although its construction completely differs: the glider is built of wood.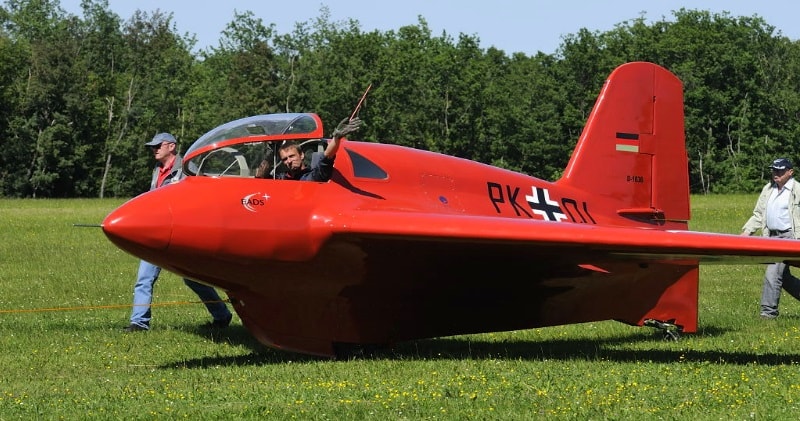 source: wikipedia / image: tailsthroughtime
Reportedly, it has excellent flying characteristics. The glider is painted red to represent the Me 163 flown by Wolfgang Späte. As of 2011, it was still flying with the civil registration D-1636.77The biggest difference was the use of wood in the replica instead of metal as was used on the original design.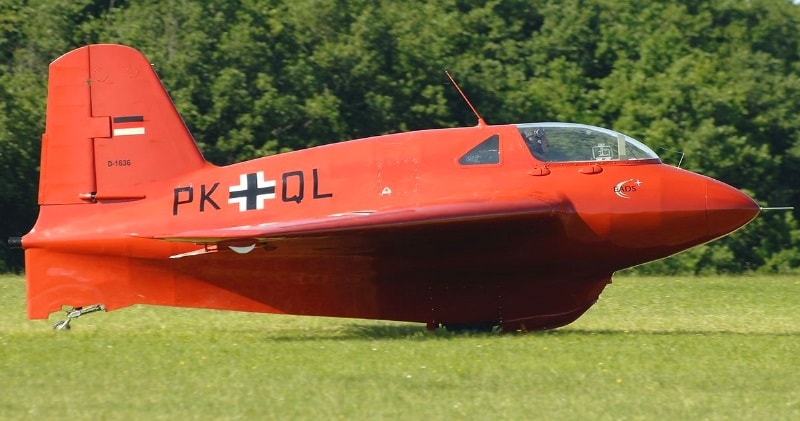 source/image: wikimedia
But Kurz was able to keep the external appearance nearly faithful to the original, even using the Gottingen 765 wing profile.
Advertisement
Because the replica was made of wood, it had a weight of 868 pounds compared to the empty weight of the original Me 163 Komet of nearly 4,200 lbs.
Aside from using wood in the construction (and the obvious lack of the Walter HWK 109 rocket motor), the other main change from the original was using a single central wheel integrated into the central landing skid instead of using the jettisonable twin-wheel dolly.