The eVTOL Xpeng X2 is a fifth-generation flying car developed and manufactured by Xpeng Aeroht. The X2 is a two-seat vertical take-off and landing (eVTOL) aircraft that lifts off with eight propellers – two on each corner of the vehicle.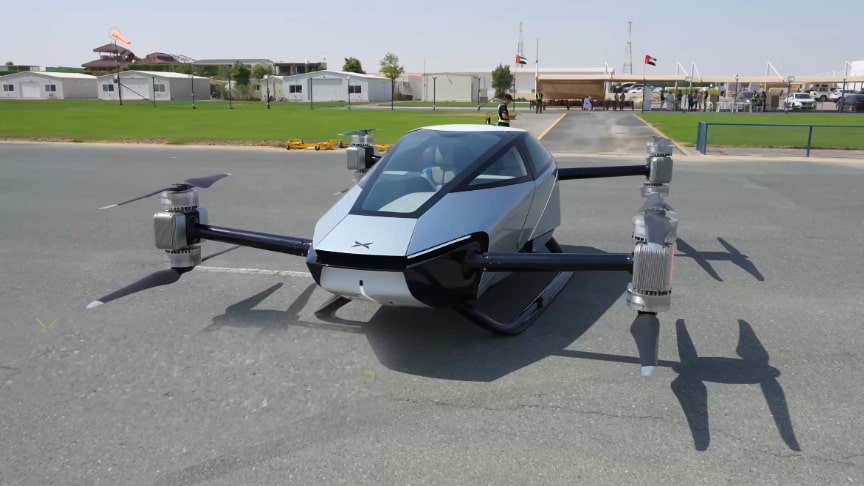 image: XPENG AEROHT
Xpeng X2 is fully made in carbon fiber structure to limit its weight and can accommodate two passengers in its compact size.The Xpeng X2 flying car can soar up to 3,200 feet at a speed of up to 130 km/h for around 35 minutes.
It does not produce any carbon dioxide emissions during flight and is a step forward in the pursuit of urban green transportation.
Advertisement
It will be suitable for future low-altitude city flights and is perfect for short-distance city journeys such as sightseeing and medical transportation.
The XPENG X2 is equipped with two driving modes: manual and autonomous. During the autonomous flight, passengers can enjoy a safe and intelligent flying experience with simple start, return and landing operations at the touch of a button.
XPENG X2 Specifications:
4.97 m length, 4.78 m width, 1.36 m height.
Arms can also be folded, making body 4.79 m long and 1.95 m wide.
Rotor diameter about 1.83 m.
Weight 560 kg, max take-off weight 760 kg. A full carbon fibre structure.
Expected cruising speed 130 kph; expected range 35 min at max altitude of 1000 m.