The Alouette 2 is a French light helicopter originally manufactured by Sud Aviation and later Aérospatiale. It was the first production helicopter powered by a gas turbine engine instead of the heavier conventional piston powerplant.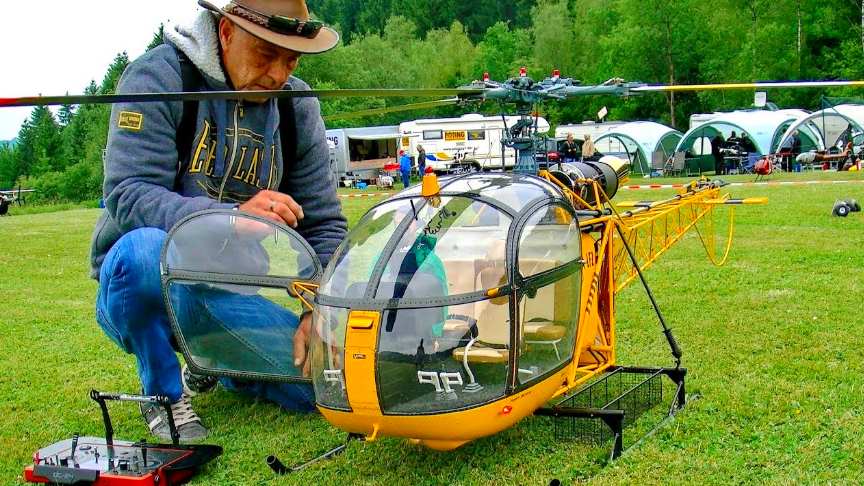 source/image(PrtSc): RC MEDIA WORLD
The lightweight and rigid lattice fuselage contributes significantly to the model's high flying performance and ensures good access to the mechanical components.
This giant Alouette 2 SA318 C has a 2.60m rotor diameter and a Take-off weight of 24 Kg, the helicopter is powered by a Jakadofsky turbine engine. The pilot of this helicopter in this video is Francis Paduwat / Teampilot from "Vario".
Advertisement
The Alouette II from VARIO is a 700, resp. 750 size scale helicopter. The turbine engine of this helicopter fascinates by the smell of kerosene, a gently starting rotor, accompanied by the unmistakable sound of a turbine.
Model: Alouette 2 SA318 C from "Vario Helicopter"
Engine: Turbine / Jakadofsky
Rotor diameter: 2,60 m
Take-off weight: 24 Kg
Pilot: Francis Paduwat / Teampilot from "Vario"
Event: 16. Pöting Turbine Meeting in Kreuztal Littfeld Germany in June 2017