The all-new EarthRoamer SX utilizes the same technology and innovations that we have incorporated into our LTi line but takes the overlanding vehicle a few steps further. A full dry bath with walk-in shower, additional sleeping and seating areas, and a large garage space for all of your gear are just a few of the improvements that make the SX next level.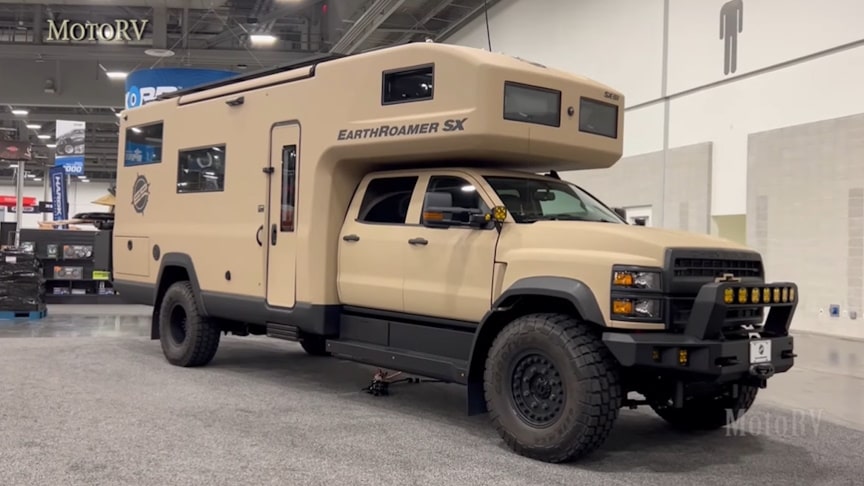 The Chevrolet Silverado 6500HD boasts a powerful and reliable Duramax 6.6L Turbo-diesel V8 engine and Allison 6-speed transmission giving you the power that you need to redefine your adventures. Increased water and fuel capacities, full 270-degree window views, optional washer/dryer unit, and a massive 18,000-watt lithium ion battery capacity ensure that you can maintain the comforts of home while taking in the view of even the furthest destinations.
The camper body of the EarthRoamer SX is the strongest and most capable in the world. This is achieved by using a one-piece molded design with no seams to leak or fail structurally, creating a stronger, safer, and more reliable living space. The main cabin dinette provides seating for up to 6 adults during the day and transitions to an additional California King bed at night. Enjoy a California King size memory foam bed in the bunk area with the option of an additional California King bed or four bunk beds down below.
Advertisement
The SX bathrooms feature a full dry bath with a walk-in shower complete with a rainfall shower head and a handheld shower wand. Your EarthRoamer SX provides everything necessary to prepare and enjoy meals inside the camper. While we frequently barbecue outside, it's nice to know you have a comfortable and capable kitchen and dining area if the weather turns bad or the bugs get too big. Modern appliances like a stainless refrigerator/freezer, induction cooktop and convection microwave are standard while a washer/dryer, additional fridge/freezer drawer, or wine fridge are added options!via/read more: earthroamer