Wanderer is one of the pioneer brands of the Germany motorcycle industry.The engineer of Wanderer designed this lovely horizontal 200cc ohv engine which works very well until today. This ohv bike from 1928 with its outside flywheel is indeed a "nice to have" in each collection. This bike has outstanding details and is fitted with a Pallas carburetor and an acetylene headlight.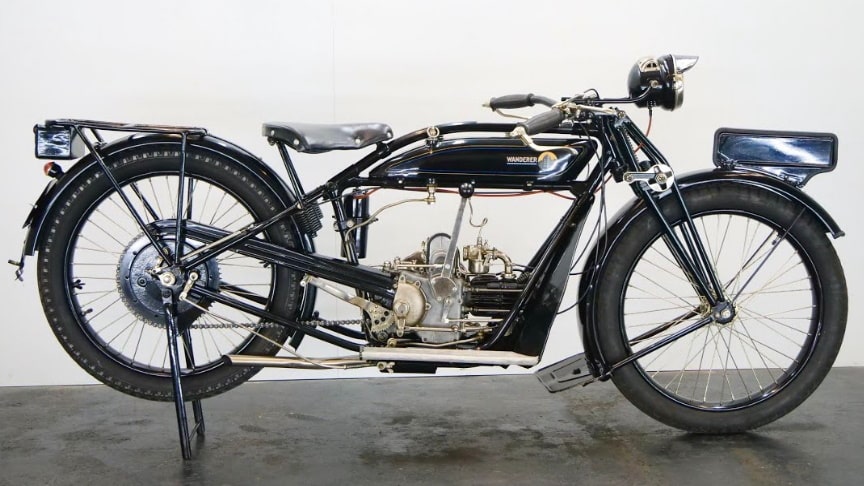 source/image: classic-motorcycle.com
Oldest of the four companies that merged in 1932 to form the 'Auto Union' (the others being Audi, DKW and Horch) Wanderer was an established motorcycle manufacturer when it built its first automobile in 1911. 'Wanderer' was the brand name of Winkelhofer & Jaenicke, a bicycle-making firm founded in Chemnitz, Saxony around 1885 and, like those of many of its contemporaries, its first motorised two-wheeler of 1902 was merely a power-assisted cycle.
By 1913 the range had expanded considerably and was topped by a 408cc v-twin. Distinguished by their wedge-shaped fuel tanks, these early Wanderer twins were of an advanced specification for their day, boasting bottom-link forks, sprung frames, two-speed hub gears, automatic lubrication and an internal expanding rear drum brake.
Advertisement
After The Great War, a 194cc four-stroke lightweight was added to the range. This boasted overhead valves and unitary construction of the horizontal engine/gearbox, and Wanderer continued to build a range of advanced designs until the end of the 1920s when motorcycle production ceased, although a range of ultra-lightweights was produced during the 1930s.