The Kaman HH-43 Huskie was a helicopter with intermeshing rotors used by the United States Air Force, the United States Navy and the United States Marine Corps from the 1950s until the 1970s. It was primarily used for aircraft firefighting and rescue in the close vicinity of air bases, but was later used as a short range overland search and rescue aircraft during the Vietnam War.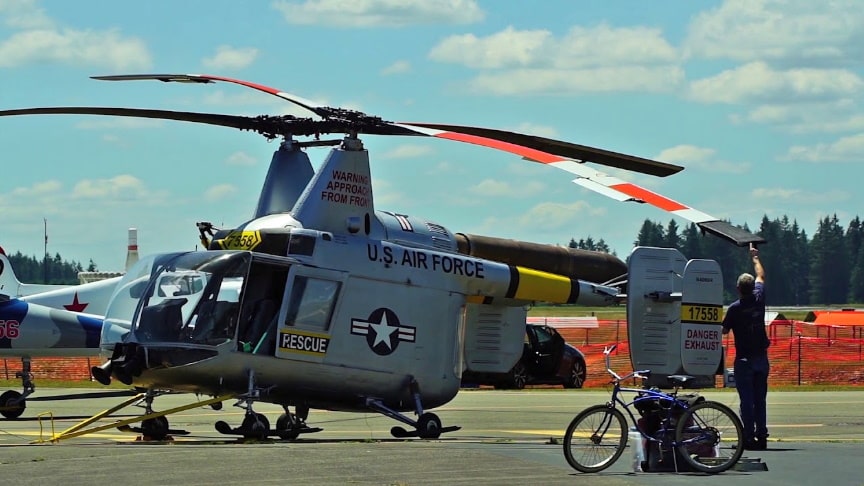 source/image: Jay Philip Williams Aviation
The Huskie had an unusual intermeshing contra-rotating twin-rotor arrangement with control effected by servo-flaps. The first prototype flew in 1947 and was adopted by the US Navy as the HTK-1 with a 240 hp (180 kW) Lycoming O-435-4 flat-six piston engine. Watch the video from Jay Philip Williams Aviation:
In 1954, in an experiment by Kaman and the US Navy, one HTK-1 was modified and flew with its piston engine replaced by two turbine engines, becoming the world's first twin-turbine helicopter.
Advertisement
A much more powerful 600 hp (450 kW) Pratt & Whitney R-1340 Wasp radial piston engine was used for the far heavier HOK-1, HUK-1, and H-43A versions for the Marines, Navy, and Air Force, respectively. The Air Force later adopted versions with a single turboshaft engine: the HH-43B and HH-43F.