Various helicopter builders at the time in the early 50s heard about this new flying platform concept and sought out the armed forces to win these contracts. Predictions were made that the craft could provide transport to a modern version of the old horse cavalry, providing airborne "eyes and ears" for the Army But like all technological revolutions, it starts with two rivals.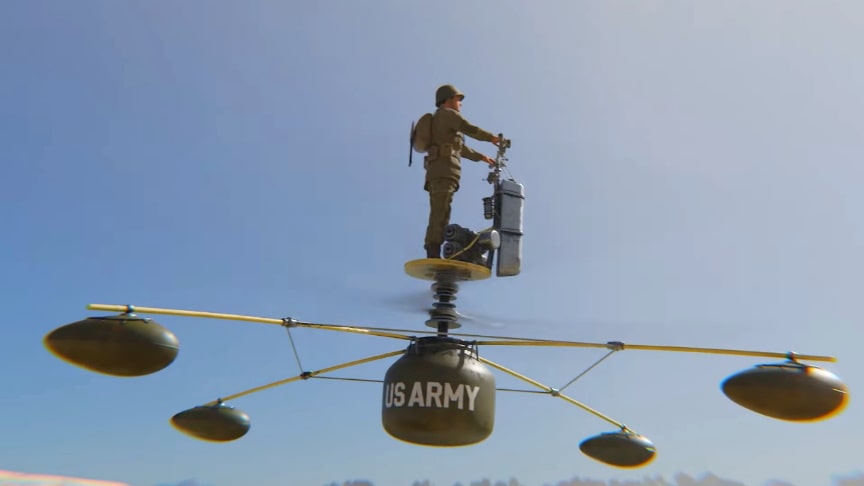 source/image: Found And Explained
The first to submit a bid was Hiller Aircraft.It would be called the Hiller VZ-1 Pawnee, and it would simply a direct lift rotor aircraft, with contra-rotating ducted fans lifting a simple platform for one man and equipment. It could carry a person up to 185 lb (84 kg), at a speed of 16 mph (26 km/h, 14 kn) 10 meters above the ground – or 33 feet in freedom units.
The second contender was from De Lackner Helicopters. they were a little slower to the game and their concept was slight more terrifying. De Lackner approached the US army brief with the DH-4. Consisting of a simple cross-shaped frame, it had the pilot standing over the engine that powered contra-rotating rotors.
Advertisement
So you know, the pilot was strapped in, i shudder to think what would happen if he were to slip into the blades below. The DH-4 was expected to be able to carry up to 120 pounds (54 kg) of cargo on top of the weight of the pilot, or an auxiliary 5-US-gallon (19 l; 4.2 imp gal) fuel tank to extend its range up to an extra 50 miles (80 km). a cargo lifting line could be threaded through the rotor shaft for the carrying of slung loads underneath the craft./Found And Explained