Watch the gorgeous 1967 Lamborghini Marzal Concept by Bertone in action during the 2019 Concorso d'Eleganza at Villa d'Este.The car sat on a Miura chassis, its wheelbase extended by 120mm to provide the required extra space to accomodate a pair of full-size rear passengers.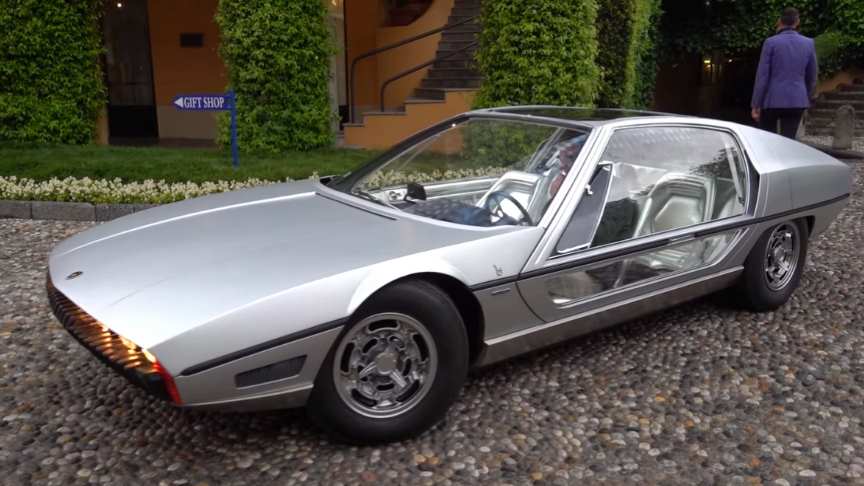 source/image(PrtSc): NM2255 Car HD Videos
And the engine is a 2.0 liter inline six, formed from the rear bank of the 4.0 liter Lamborghini V12!Visually, it's hard to miss the Marzal concept with its silver livery, primarily seen on the cabin upholstery that makes this car look like it's ready for the future.
The Marzal was an exercise in modernity, featuring huge, glass gullwing doors, a silver leather interior and design details based on hexagonal shapesThe Marzal was powered by a 2.0 L inline-six engine, which produced 175 bhp (130 kW) at 6800 rpm.
Advertisement
This engine was designed by Gian Paolo Dallara and was a split-in-half version of the 4.0L Lamborghini V12, mated to a 5-speed transaxle. It was equipped with three Weber carburetors, with air intakes positioned directly behind the rear passengers' heads. The engine was mounted transversely in the rear of the car, fully behind the rear axle./wikipedia