Check out this Chevrolet C/10 pickup I found at the 2019 SEMA Show in Las Vegas NV…One word describes this truck…Custom.Listed as a 1967-1968 Chevrolet C-10 pickup tells You even the year is custom.lol.Over the top for sure this 1968 Chevrolet C/10 named Chop Suey may be the most custom Chevrolet C/10 pickup ever built.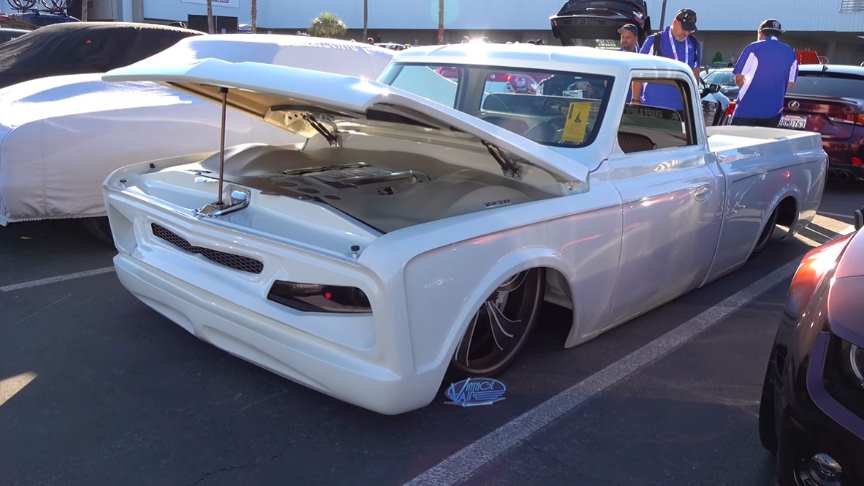 source/image(PrtSc): ScottieDTV
There are way to may modification made to the body to list.Just know that every panel has been changed…From the tailgate to the front bumper it's all one off custom.The interior is just as crazy as the rest of this 1968 Chevrolet C/10 pickup form the 2019 SEMA Show and I wouldn't even know where to start when describing it.Except for.It's custom!!.
It lays on the ground and I am sure you can adjust the ride height when the time comes to drive it.But parked it looks good laying on the ground.Under the hood more extensive custom work with a LS centered in the middle of it all.
Advertisement
Wheels are always a personal choice and even though I'm sure what they chose to run on this 1968 Chevrolet C/10 pickup from the 2019 SEMA Show won't please everyone.I have no problem with them…They are custom and fit the rest of the build perfectly.Chop Suey the custom 1967-1968 Chevrolet C/10 from the 2019 SEMA Show will not be for everyone. But I'm sure it will have everyone talking.ScottieDTV