Check out this 1969 Ford Mustang Mach 1 I found at the 2019 SEMA Show. "Unkl".Debuted by the Ring Brothers it is what we have come to expect from Mike and Jim Ring out of Wisconsin.It's the first time the Brothers have done a Mach 1 Ford Mustang.Several Fords and even a few Mustangs.But never a Mach 1 Race inspired and covered in a medium bright blue paint with flat black graphics.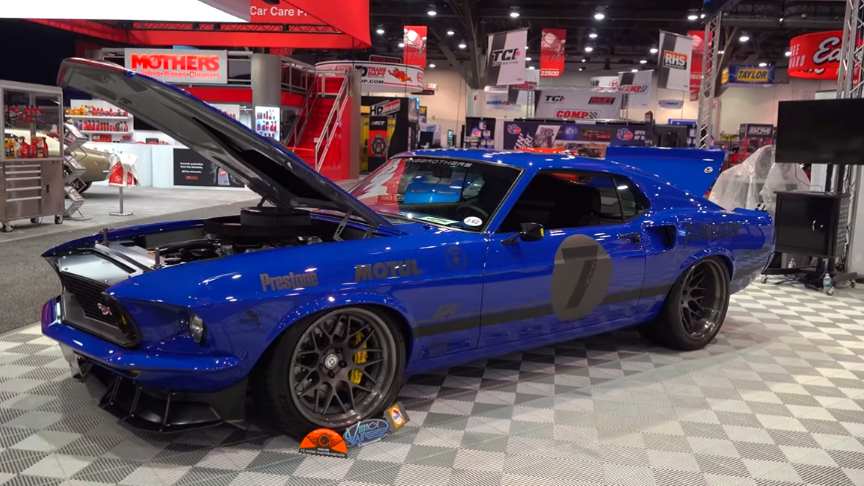 source/image: ScottieDTV
It has a track ready look for sure!! You can bet that it is just as comfortable on the street.Either way.This 1969 Ford Mustang from the 2019 SEMA Show was built to drive…Stance is king and this Ringbro's Mach 1 sets like a 1969 Ford Mustang should.Low and wide.
Wheel choice is always a personal one and the wheels that this 1969 Mach 1 from the 2019 SEMA Show wears works really well for Me.The Ring Brothers carry the race theme into the custom interior with a comfortable looking seat choice and a very well laid out cockpit.I not only love the style of the interior.But the material choice also.Very cool for sure!!!
Advertisement
Under the custom hood you will find a working cold air intake feeding a naturally aspirated 520-cubic-inch (8.5-liter) Boss V8 700 HP Jon Kaase engine and some very fancy panel work.To say I am a fan of this 1969 Ford Mustang Mach 1 built by the Ring Brother from the 2019 SEMA Show would be a understatement.Very cool build for sure.//ScottieDTV