The 1972 AMC Javelin AMX "Defiant" built by the Ringbrothers for Prestone Antifreeze.I caught up with it at the 2018 Detroit Autorama and had a chance to get a up close with it for this video.Mike Ring tells Me how this car was the older woman in His life when He was younger..How He would set behind the wheel and dream about one day.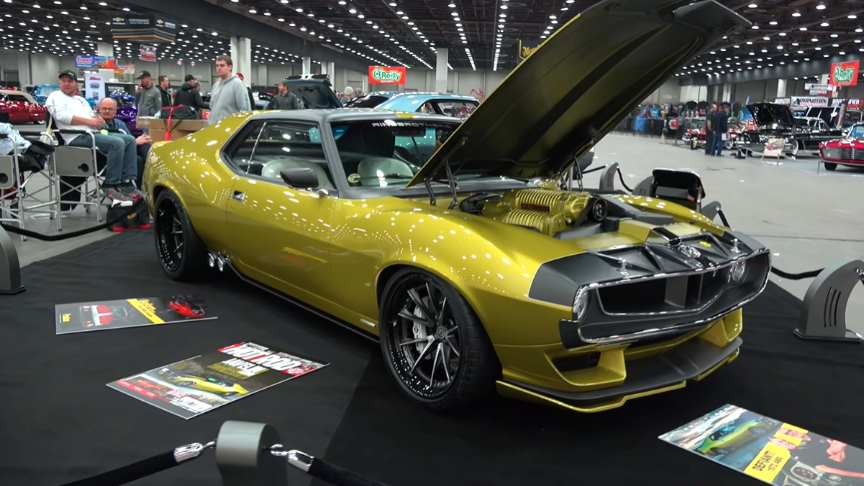 source/image(PrtSc): ScottieDTV
Turn the clock ahead.. Jim and Mike have the chance to buy the Car.With no idea what they would do with it.As Mike Ring tells Me.Who would put any money into a AMC.Javelin.But.Again.One day.When Prestone showed up wanting to build a Car that would get attention for their products The Camaro.Mustang.
The usual suspects were suggested.But Mike and Jim had a idea.One Bad A** AMC Javelin."Defiant" was born.The whole front end.From the front window forward is not only all custom.It's all Carbon fiber.Under the hood!??!!?.A LS..KIDDING!!!!.A 6.2 Lt Hellcat motor with a 4.5 Lt Whippel Supercharger.Over 1000 HP!!!!.
Advertisement
The fit and finish is amazing What you expect from Ringbrothers.The interior is a all custom White leather.Now a two seater..It is a perfect tip to the 70's and a perfect fit for this build.I have always liked the AMC Javelin ..But I love this one.Very cool for sure.Check it out!!!!/ScottieDTV