"Fascination" was a three-wheeled car with a futuristic design. The prototype car was built in Denver and originally had airplane propellers in the rear. One of the propellers failed during a demonstration resulting in the propeller idea being abandoned.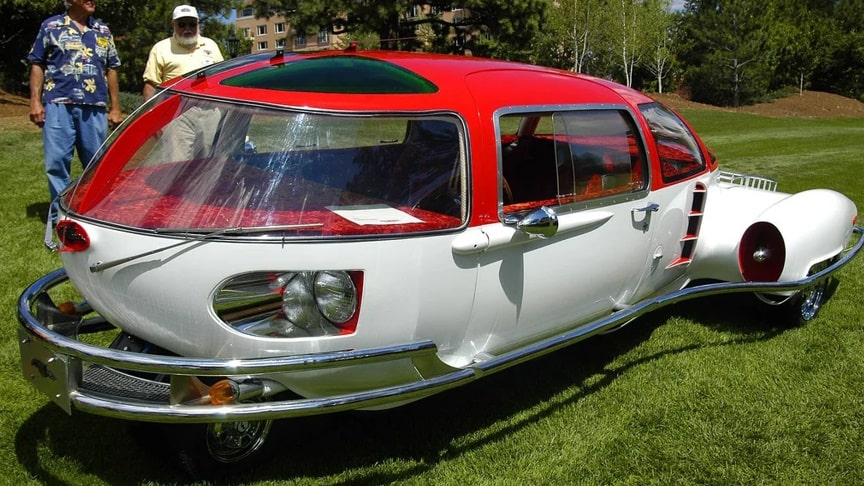 It was powered by an innovative motor aluminum 4 cylinder gas fueled. It had its own source energy that gave him an autonomy between 60 000 and 75 000 miles without loss of power and efficiency with zero emissions emitted by gas combustion.The Fascination was a car created by Paul M. Lewis and manufactured by the Highway Aircraft Corporation of Sidney, Nebraska. It was designed as a futuristic automobile from 130 mph with a turning ability to 180 degrees.
"This is just about the most unusual car where ever it appears. I spoke with the owner, Keith Carpenter." Lewis predicted that the Fascination's powerplant would be as radical as his car's design. His brochure stated, This engine is a closed two-cycle reciprocating engine that has no intake, uses no air, emitting no exhaust at all.
Advertisement
The fuel is self-contained and hermetically sealed in the cylinders which are initially charged at the time of manufacturing, carrying their own power supply that will last approximately 60 to 75 thousand miles with no fall off of efficiency.A car engine with zero emissions and 75,000 miles between fill-ups sounds great, even to this day, but Lewis' miracle powerplant never materialized, instead, his prototypes were powered by conventional Renault engines.