During the Goodwood Festival of Speed I have filmed this unique 1 of 1 1979 Aston Martin Bulldog Concept.Designed by the late Bill Towns, the Bulldog dates from the same era in Aston Martin's topsy turvy history as the utterly magnificent Lagonda saloon; Towns, it seems, had a problem with curves.He also set the co-ordinates for an automotive future that never quite materialised.Former Aston Martin chairman – and saviour – Victor Gauntlett decided the car would be too expensive to put into production, and reluctantly canned it back in 1981.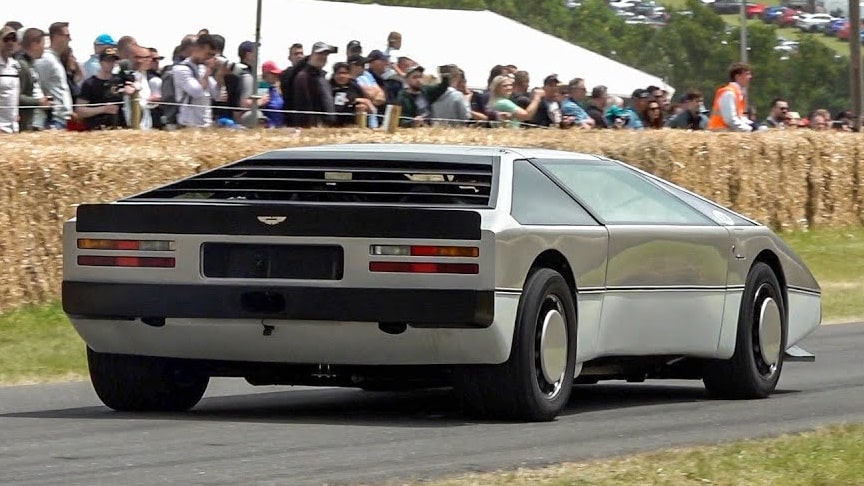 Destined to be a one-off, the Bulldog was subsequently sold to a collector in Saudi Arabia, before making its way to the US, and eventually being mothballed somewhere in the Far East. But it's no mere footnote. Committed collector Philip Sarofim, who also owns the wondrous Bertone Stratos Zero, rescued it and has recommissoned it. Clearly another man who disavows curvy cars.Guided by Victor Gauntlett's gregarious and highly entertaining son Richard, a major restoration began several years ago, at Shropshire-based classic car experts CMC.
And the team have done an astounding job, not just returning the Bulldog to its former glory but elevating it some way beyond.According to CMC's MD Nigel Woodward, the car was largely intact when it arrived at their facilities, if somewhat careworn after its most recent sojourn. A two-year restoration saw the Bulldog painstakingly stripped then reassembled. The tubular steel spaceframe was reinforced, substantially improving the car's torsional rigidity.
Advertisement
The original's 5.3-litre V8 has been completely rebuilt, bored and stroked to 5.7 litres, and now has a pair of Garrett turbochargers running 0.9 bar of boost (the original's fuel injection had been switched out in favour of some recalcitrant Weber carbs). TG understands that the engine is currently good for 650bhp with another 200 not out of the question. That said, it frazzled CMC's dyno before it was getting fully into its stride.