Full van tour of the ModVans CV1 modular pop top camper van on the Ford Transit chassis with the 3.5L EcoBoost engine.With 2 large beds, safe and comfortable seating for up to 7 and removable RV components, the ModVans CV1 is a full featured camper van, family van and work van all in one.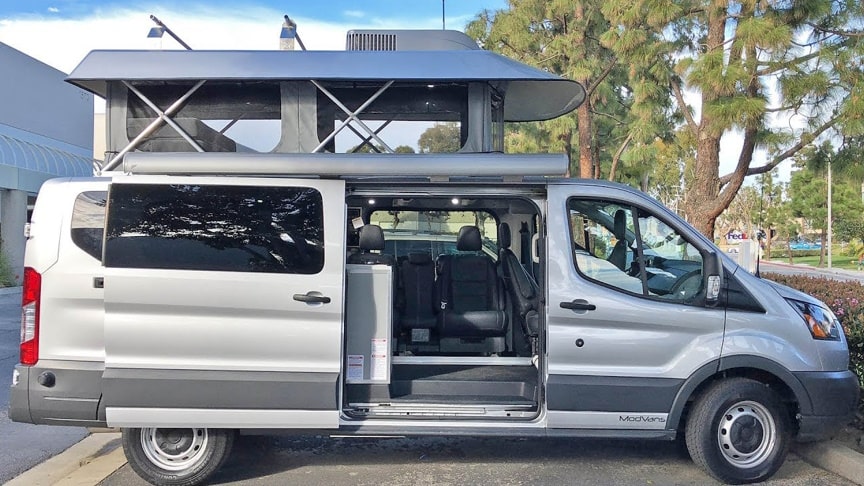 High roof vans and larger RVs are top heavy and difficult to drive off-road or in challenging conditions such as high winds, sand, mud and snow. With a low center of gravity, available 400 ft. lb. of torque, available 4×4 and All Wheel Drive and advanced driving assistance features, the CV1 will get you to your next adventure with surprising ease. The CV1 comes loaded with adventure features like cruise control and heavy duty tow package. More adventure-oriented features are available as options.Watch the video from We're the Russos:
With ModVans, there is no reason to co-opt your family SUV for camper use with coolers, camp stoves, and inflatable mattresses – the CV1 is a fully functional RV with a kitchen, RV power system, toilet, large and comfortable beds and indoor seating.The base for the ModVans CV1 is the Ford Transit full-size van. With a modern unibody chassis and available twin turbo, direct injection engine and available All Wheel Drive (AWD), the Transit drives better than any other full-sized van on the market.
Advertisement
With included safety features such as automatic emergency braking and available advanced driving assistance features such as adaptive cruise control and active park assist, the Transit is safe and easy to drive. The Transit based CV1 gets good gas mileage, is easy to park and it can be serviced anywhere you can find service for Ford vehicles.