The 2023 Audi R8 GT is the end of the line for the R8 — and it's very hard to say goodbye. Today I'm reviewing the new 2023 Audi R8 GT, and I'll show you all the quirks and features of this special car. I'm also going to get behind the wheel of the new 2023 R8 GT and show you what it's like to drive.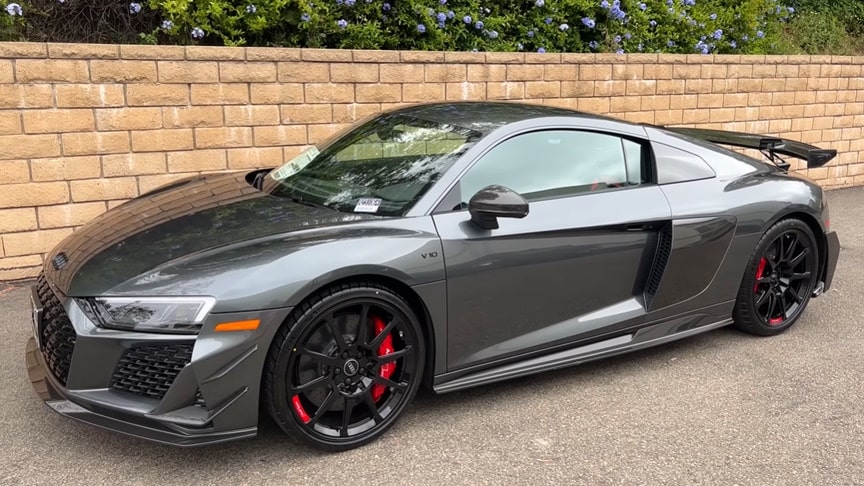 The 5.2 liter, naturally aspirated V10 engine's output is boosted to 456 kW making it the most powerful rear-wheel drive unit in the history of the brand. A new 7-speed dual-clutch transmission for faster shifts and the new Torque Rear driving mode allows drivers to choose their own level of ESC support. This enables controlled and simultaneously precise oversteering.
The seven-stage torque rear can be adjusted via the control satellite on the steering wheel. To differentiate the new Audi R8 V10 GT RWD from its relatives, the special model is equipped with exclusive add-on parts. The first distinguishing feature is the black "R8 GT" lettering on the rear.
Advertisement
All other emblems are in black. With the Carbon Aerokit in high gloss, which was developed in the wind tunnel, the package generates better stability on the road.In the interior, Audi Sport GmbH continues its homage to the first R8 GT from 2010. The interior is crafted in a combination of black and red. This includes red belts – only available in the R8 GT from 12 years ago.