Introducing the all new 2024 Living Vehicle luxury travel trailer. Go where you want and do what you want. Living Vehicle is engineered to withstand the demands of even the most extreme outdoor adventures. Four-season capabilities, off-road running gear, and storage for all your toys make sure fun has no limits because luxury travel trailers shouldn't just look good; they should perform on all levels. Experience luxury unplugged.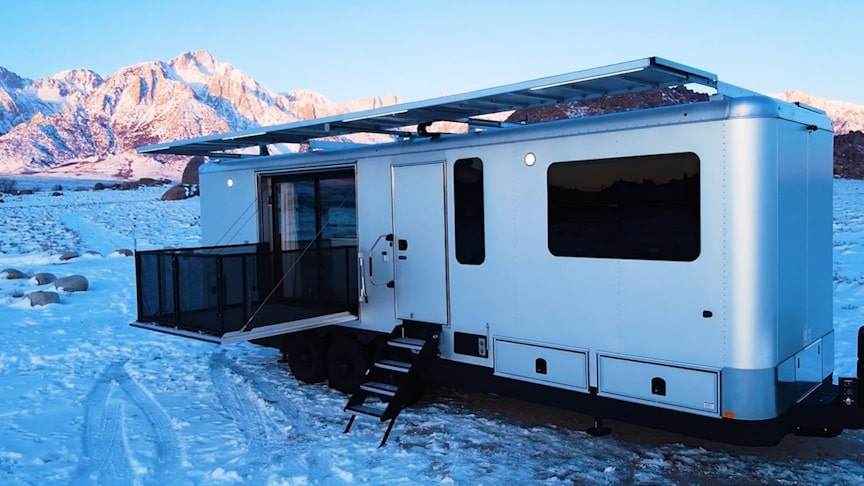 source.image: Living Vehicle
Living Vehicle is designed to feel like home. The interior of the LV highlights natural and extremely durable materials and is conceived as a painter's canvas. Simple, natural and personal. Your LV is as unique as your own taste–a living breathing piece of art that celebrates your own style of life and individuality.
Sleep up to 8 people comfortably in the HD Living Vehicle, with separate sleeping spaces for each pair. The lounge effortlessly converts to queen bunk beds with a button and the Euro Loft option installed.Created specifically to be used in remote environments, it is now possible to go off-grid indefinitely by creating your own perpetually sustainable power source. Living Vehicle has created a stand-alone electrical powerhouse with a fully integrated system.
Advertisement
The energy system on the 2024 HD-PRO is massive. Featuring the Dual Solar Awning, perpetual off-grid use is possible. Beautiful black walnut wood treatments throughout the interior.White and bright walls, cabinets, and ceilings radiate natural light and draw the outdoors in.Windows, windows everywhere. Enjoy the outdoors from every space in the Living Vehicle.Mill finish aluminum, the most abundant metal found in earth's crust (and one awesome material to create Living Vehicle.)