This is the Ford GT, and not just any Ford GT, but an abandoned Ford GT that Larry (AMMO NYC) fully detailed and restored after being abandoned for 5 years!The Ford GT began life as a concept car designed in anticipation of the automaker's centennial year and as part of its drive to showcase and revive its "heritage" names such as Mustang and Thunderbird.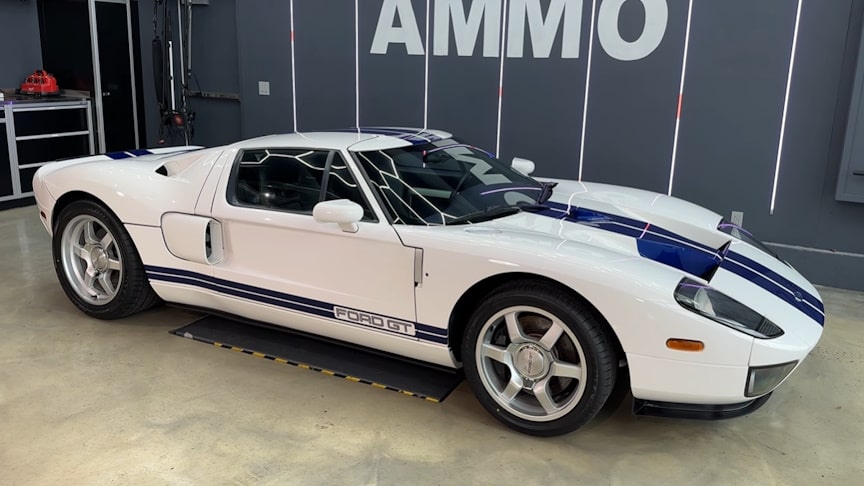 source.image: Doug DeMuro
The Ford GT features many technologies unique at its time including a superplastic-formed frame, aluminum body panels, roll-bonded floor panels, a friction stir welded center tunnel, covered by a magnesium center console, a "ship-in-a-bottle" gas tank, a capless fuel filler system, one-piece panels, and an aluminum engine cover with a one-piece carbon fiber inner panel.
Brakes are four-piston aluminum Brembo calipers with cross-drilled and vented rotors at all four corners. When the rear canopy is opened, the rear suspension components and engine are visible.
Advertisement
The 5.4 L longitudinal rear mounted Modular V8 engine is an all-aluminum alloy engine with an Eaton 2300 Lysholm screw-type supercharger. It features a forged rotating assembly housed in an aluminum block designed specifically for the car. A dry sump oiling system is employed, allowing the engine to sit low in the car's frame.