ShowHauler Motorhome Conversions builds custom Super C motor coaches in Middlebury, Indiana. ShowHauler has built motorhomes on Volvo, Kenworth, and Peterbilt chassis, but the most common is the Freightliner Cascadia. This Class 8 truck chassis is designed to ride like a high-end SUV. It comes in lengths of 116 and 126 inches (bumper to back of cab).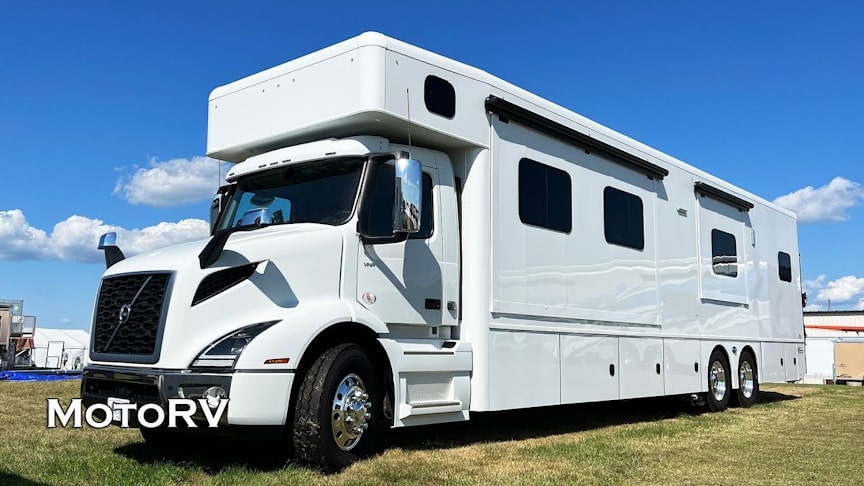 source.image: MotoRV
The Cascadia 116 is suitable for shorter engines, such as the Detroit Diesel DD13, while the Cascadia 126 is required for the larger, 600-horsepower Detroit Diesel DD16.Transmission choices include a six-speed Allison automatic or a 12-speed Detroit DT-12 automated manual transmission. Most are built with the DT-12.
Configurations include shorter single-axle coaches all the way up to 45-foot tandem-axle units. The number of slideouts can change as needed.Most ShowHaulers are built with a spacious cab-over bunk area, which can range from 42 inches to 60 inches in length, offering some great storage room as well as sleeping space for children or adults.
Advertisement
A choice of cabinets, including oak and maple hardwood in five finishes, adds an opportunity to personalize the interior. Ceramic or porcelain tile floors can be heated. Countertops can be Formica, solid surface, granite, or quartz, and the galley backsplash can be whatever tile design customers desire.The superior construction process used to build your ShowHauler will outlast the design trends at the time it was built. The growth and success of Home Improvement stores are a testament that consumers want to keep their living spaces fresh, current, and filled with the most modern amenities.