The Empire State Building is a 102-story Art Deco skyscraper in Midtown Manhattan, New York City. The building was designed by Shreve, Lamb & Harmon and built from 1930 to 1931.The Empire State Building opened on March 31, 1931 and took only one year and 45 days to build, rising at 4 1/2 floors per week.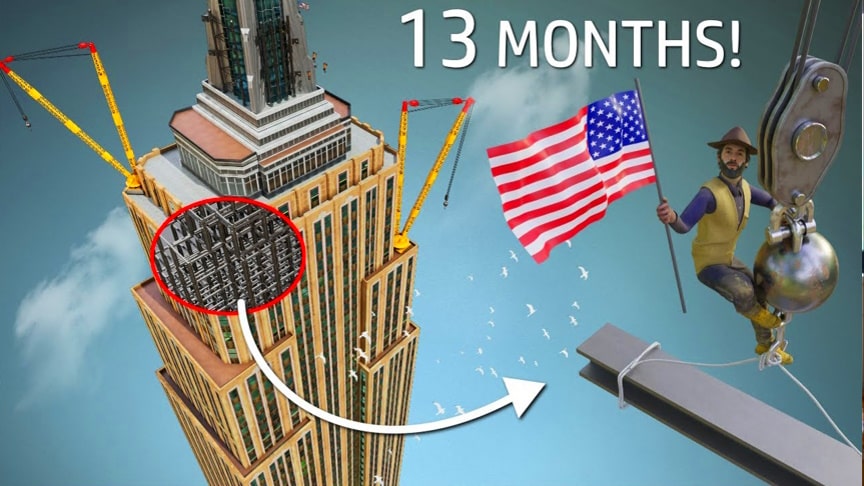 The Empire State Building is 1,250 ft (381 m) tall to its 102nd floor, or 1,453 feet 8+9⁄16 inches (443.092 m) including its 203-foot (61.9 m) pinnacle.The construction itself is a model of efficiency, based on the emerging principles of industrialism, assembly lines and division of labour. Let's explore all the engineering secretes behind the engineering wonder – Empire state building.
To maintain the strict schedule, pieces like steel beams and stonework were prepared off-site, then delivered ready to be inserted into place by workers. A series of hoists and narrowgauge tracks inside the building moved the pieces to the topmost floors, while large external winches were used for heavy stone pieces. Workers perched hundreds of feet above street level as they riveted steel girders.
Advertisement
Portions of the building were prefabricated off-site and assembled in place in order to achieve this remarkable construction schedule. A total of 317,000 t of materials went into the construction of the Empire State Building, which included:
57,000 tons of steel
10 million bricks
10,000 tons of plaster
62,000 cubic yards of concrete
310,000 square feet of marble
200,000 cubic feet of limestone