RMS Titanic was a British passenger liner, operated by the White Star Line, which sank in the North Atlantic Ocean on 15 April 1912 after striking an iceberg during her maiden voyage from Southampton, UK, to New York City, United States. The first-class accommodation was designed to be the pinnacle of comfort and luxury, with a gymnasium, swimming pool, libraries, high-class restaurants, and opulent cabins.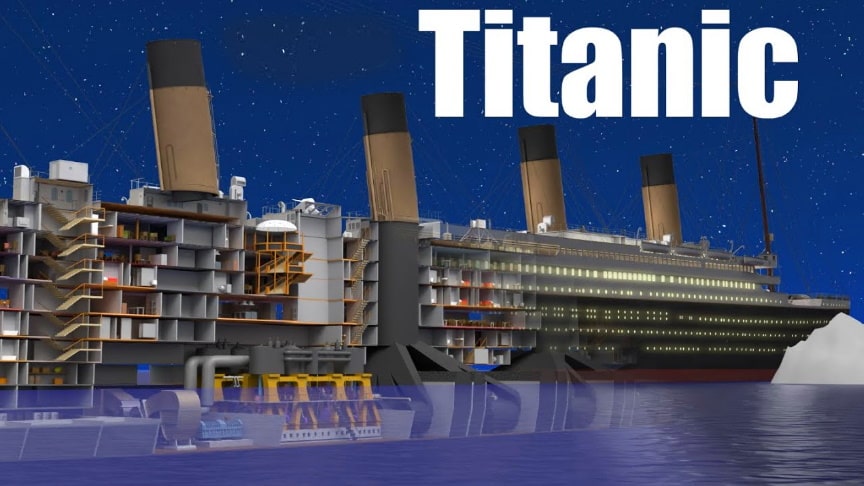 source/image: Jared Owen
A high-powered radiotelegraph transmitter was available for sending passenger "marconigrams" and for the ship's operational use.Titanic had advanced safety features, such as watertight compartments and remotely activated watertight doors, contributing to its reputation as "unsinkable".This video explores the most famous shipwreck in 3D. We'll go through the ship deck by deck, starting with the Boat Deck and then going all the way to the Orlop Deck and Tank Top.
Titanic was equipped with 16 lifeboat davits, each capable of lowering three lifeboats, for a total of 48 boats; she carried only 20 lifeboats, four of which were collapsible and proved hard to launch while she was sinking.Titanic was equipped with three main engines—two reciprocating four-cylinder, triple-expansion steam engines and one centrally placed low-pressure Parsons turbine—each driving a propeller. The two reciprocating engines had a combined output of 30,000 horsepower (22,000 kW). The output of the steam turbine was 16,000 horsepower (12,000 kW).
Advertisement
Some of the most famous rooms include the ships Bridge, Gymnasium, Smoke Rooms, Dining Saloons, Crew Alleyway, Swimming Pool, Turkish Bath, Squash Racquet Court, and the Post Office. The bottom deck (Tank Top) houses the ship's machinery. This includes the Boilers, Reciprocating Engines, Turbine Engines, and the Electric Motors.