A 3D animation showing how a Glock 19 firearm works. Cinema 4D was used to create each individual part, as well as animating everything. Substance Painter was used to create the main textures. Corona renderer was used to render everything. This animation took me over 500 hours to create.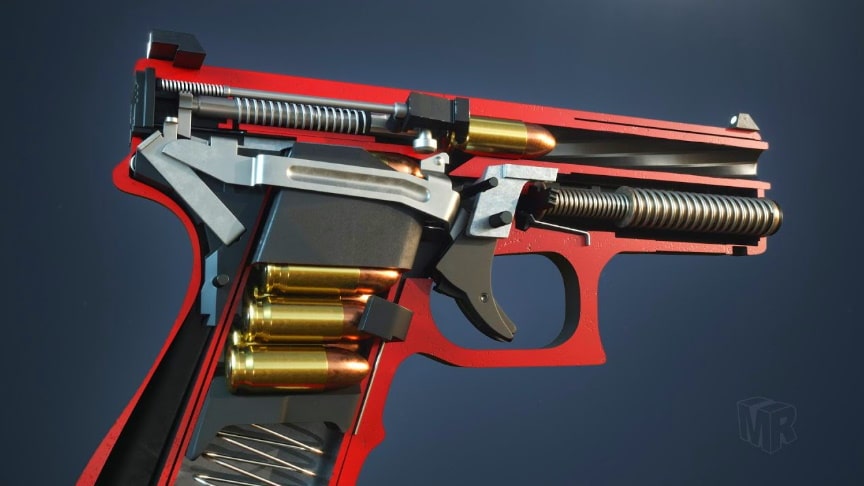 source/image(PrtSc): Matt Rittman
The Glock is a short recoil–operated, locked-breech semi-automatic pistol that uses a modified Browning cam-lock system adapted from the Hi-Power pistol.When the pistol is charged, the firing pin is in the half-cock position. As the trigger is pulled, the firing pin is then fully cocked. Watch the video from Matt Rittman:
At the end of its travel, the trigger bar is tilted downward by the connector, releasing the firing pin to fire the cartridge.he firearm's locking mechanism uses a linkless, vertically tilting barrel with a rectangular breech that locks into the ejection port cut-out in the slide.
Advertisement
During the recoil stroke, the barrel moves rearward initially locked together with the slide about 3 mm (0.12 in) until the bullet leaves the barrel and chamber pressure drops to a safe level.Glock pistols incorporate a number of features intended to enhance reliability in adverse conditions, such as utilizing advanced metal coatings, "stub" slide guides instead of true frame rails, and an unusual cocking mechanism wherein the trigger is partially responsible for cocking the striker.via/read more: wikipedia