Big Ben is the nickname for the Great Bell of the striking clock at the north end of the Palace of Westminster in London, England,although the name is frequently extended to refer also to the clock and the clock tower.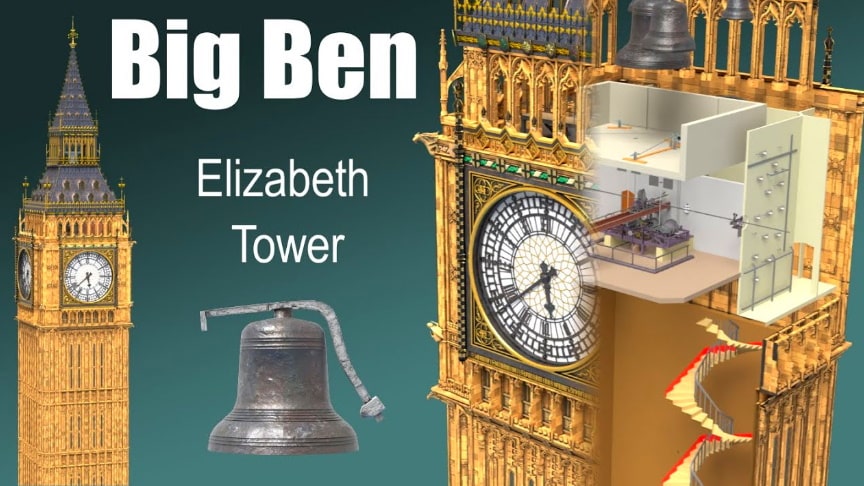 source/image(PrtSc): Jared Owen
Big Ben is the largest of the tower's five bells and weighs 13.5 long tonsElizabeth Tower (Big Ben) is the famous clock tower in London England. Come see how it works!The tower is 96.3 m high making it the third tallest clock tower in the UK./Jared Owen
Its dials at the centre are 54.9 m above ground level. The tower's base is square, measuring 12.2 m on each side,resting on concrete foundations 3.7 m thick. A ventilation shaft running from ground level up to the belfry, which measures 4.9 m by 2.4 m, was designed by David Boswell Reid, known as "the grandfather of air-conditioning".
Advertisement
They each contain 324 pieces of opalescent glass.ectric bulbs were installed at the beginning of the 20th century. The ornate surrounds of the dials are gilded. At the base of each dial is the Latin inscription DOMINE SALVAM FAC REGINAM NOSTRAM VICTORIAM PRIMAM, which means "O Lord, keep safe our Queen Victoria the First".The clock's gun metal hour hands and copper minute hands are 2.7 m and 4.3 m long respectively.