During the Goodwood Festival of Speed I have filmed this 4 million Bugatti Bolide! It has a 8.0 liter quad-turbo W16 engine that produce 1850HP! It goes from 0-100 km/h in 2.2 seconds with a maxium top speed of 501 km/h (311mph). In this video you will hear the brutal engine sounds, accelerations and the engine start up. I hope you will enjoy this video.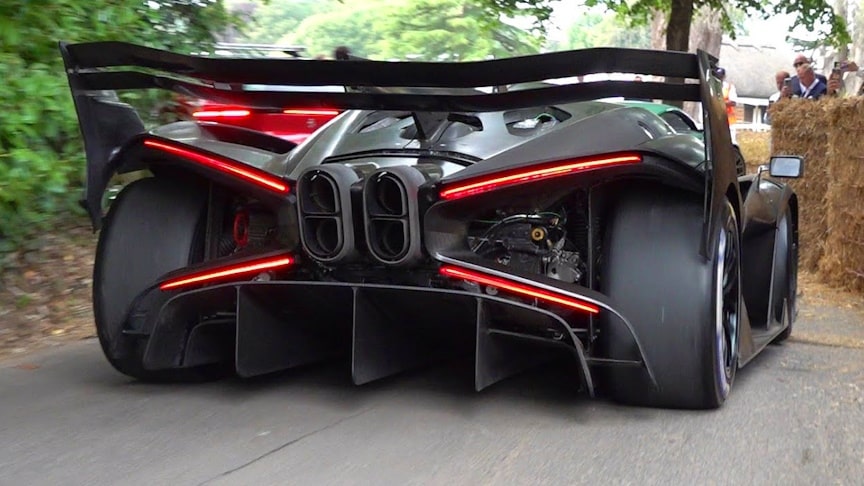 source.image: cvdzijden – Supercar Videos
The Bugatti Bolide is a track-day-focused sportscar developed by Bugatti.According to Bugatti, the concept version of the Bolide is using the W16 engine with a weight-to-power-ratio of 0.91 kg/kW (0.67 kg/PS; 1.50 lb/hp). Bugatti announced the Bolide would be the last car ever made with their W16 engine.
The main influence on the Bolide's light curb weight is due to the monocoque and all of its components constructed with titanium, along with nearly all of the body panels constructed in carbon fiber.The aerodynamics of the Bolide help it generate more than 2,630 kg (5,800 lb) of downforce at 320 km/h, with 1,810 kg at the rear wing and another 820 kg (1,800 lb) at the front wing.
Advertisement
The Bolide is built using the framework of the same 8-liter quad-turbo W16 engine and the 7-speed dual-clutch automatic transmission used in the Chiron, although upgrades to the W16 engine allow the Bolide to generate over 1,824 hp and 1,850 N⋅m of torque. Additionally, Bugatti states that the Bolide has a 0–401–0 km/h (0–249–0 mph) of 24.62 seconds, and a 0–501–0 km/h (0–311–0 mph) time of 33.62 seconds.