This tiny engine is a RETROL R29 4.2CC Miniature V-Twin Engine Motor OHV for Mini Chopper Bike Motorcycle.Based on the V-twin double-cylinder Knucklehead motorcycle engine in the 1970s, the miniature gasoline mini knuckle head engine model embodies the spirit of different ages in a wonderful way.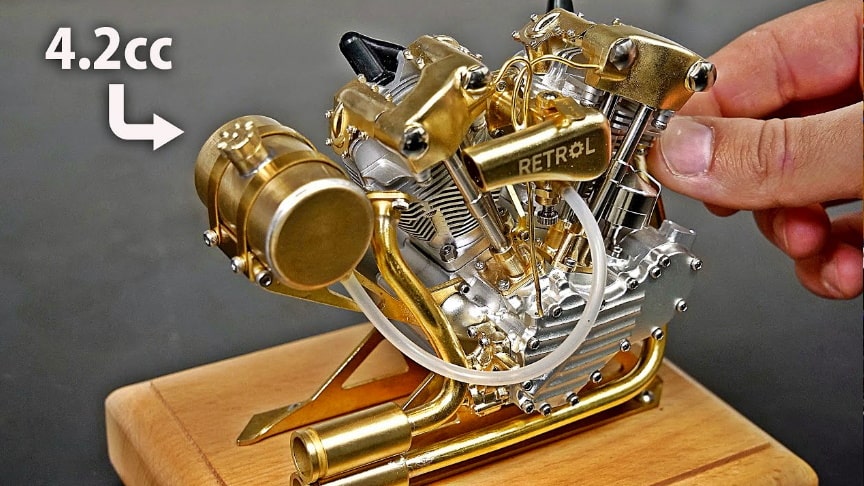 Designed with classic body lines and cold-cooling structure, the retro machine restores a host of authentic engine details, including a new carburetor and lift throttle.
Each part of the engine was carefully designed, processed as well as made of brass and stainless steel, working in conjunction with a wooden base for easy display&control and stable operation.
Advertisement
Built with start and ignition equipment, the engine is ready to run and friendly to novice model enthusiasts. When running, you will satisfy and marvel at its operation.As a coveted collection, the engine model is worth showing and playing, suitable for personal use and a high-end gift to friends and families at major festivals.
.Scale: 1/5
.Form: Ready to Run
.Type: Double-Cylinder Four-Stroke Gasoline Engine
.Displacement: 4.2CC
.Cylinder Diameter: 13mm
.Stroke: 16mm
.Cooling Mode: Air Cooling
.Starting Mode: Manual/Electronic Drill Starting
.Ignition Method: Electronic Igniter
.Spark Plug Type: 1/4-32 Thread ME8 Spark Plug
.Lubrication Method: Mix/Splash Lubrication (Gasoline/Engine Oil =25/1)
.Fuel Type: 95# Gasoline
.Engine Oil Type: 2T Engine Oil