Ever wondered what it would take to build a 10,500RPM, 500HP V8 motorcycle-based engine? Wonder no more as the RPE RP-V8 is just that.With options of 2.7, 3.0 and 3.2L variants and 400 to 500HP outputs, Radical Performance Engines have the bases covered when it comes to their Suzuki GSX-R Hayabusa based 72° V8 10,500rpm powerplants.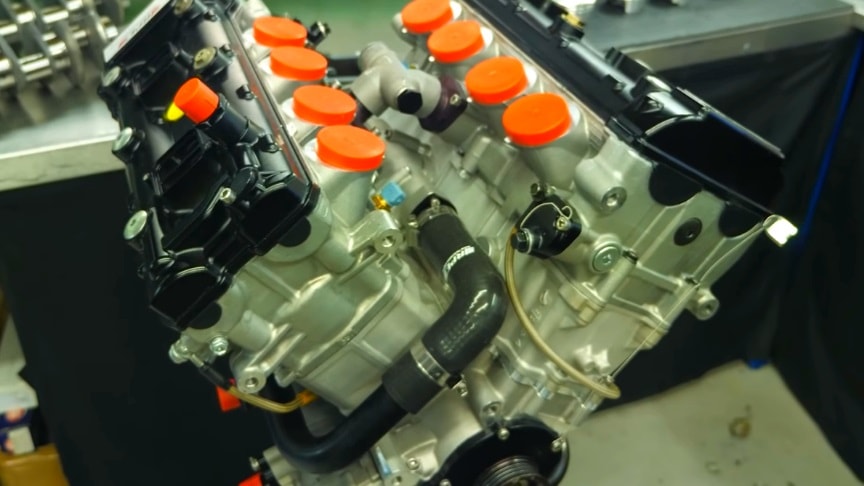 source/image: High Performance Academy
With an interesting combination of both Formula 1 technology via an engine casting that includes a dry sump system and MotoGP technology via the Suzuki Hayabusa cylinder heads a lot of careful design and production considerations have gone into the engine and James Pinkerton from RPE was kind enough to share some of this with Andre during our recent Goodwood UK trip./High Performance Academy
James and Andre dive into some of the considerations that go into building a 72° V8 as opposed to the easier 90° setup including the reason for this choice, the firing order and how that can create some issues when it comes to engine harmonics.
Advertisement
Potential issues from the harmonics are not something that was overlooked with both the small and big pin crank options having the worst of them occur either at points in the rev range generally only used in passing, or above the 10,500rpm limit.The pros and cons of the flat-plane crankshafts used are also covered and the reason for replacing stock Suzuki liners with a thicker billet option and why stroker cranks are easier to fit into this engine configuration than a conventional V8.via/read more: High Performance Academy